"These annual awards recognize Fox Valley area students..."
Local students win Aurora Rotary Club scholarships
AURORA, Ill., Dec. 21, 2020 — Eleven area high school students have received Aurora Rotary Club's 2020 Ted Brattin Youth Service Award.
Gretchen Timm, Rotary Club of Aurora president, said "These annual awards recognize Fox Valley area students, 14 to 19 years of age, who have exhibited qualities of citizenship, service and leadership through activities in school, church or community."
Each award winner received $100 and a certificate from Rotary. Recipients are:
AURORA–Sebastian Martinez, Aurora Central Catholic High School; Nicholas Coffman, Marmion Academy; Elijah Darden, Neuqua Valley High School; Lydia Oker, Rosary High School; Charline Rivera, Illinois Mathematics and Science Academy; and Jesus M. Aguirre III, East Aurora High School.
MOOSEHEART–Ellen Darkoa-Ampem, Mooseheart School
NAPERVILLE– Elizabeth South, Naperville North High School
OSWEGO– Joshua Lovell, Oswego High School; Mason Hodge – Oswego East High School
YORKVILLE–Jenna Demas, Yorkville High School
Brattin awards are traditionally presented at the annual Pearl Harbor Day memorial luncheon co-sponsored by Rotary, Aurora University and Aurora Council 247, Navy League of the United States. Due to the pandemic, this year's luncheon was canceled.
The award is named for the late Ted Brattin, a former Aurora businessman, World War II Marine pilot and Aurora Rotary Club charter president. Brattin helped found the Aurora Navy League council and Aurora-Naperville Rotary Club.
---
Read more news at XPian News… https://xpian.news
https://xpian.news/2020/12/07/aurora-veterans-remember-pearl-harbor-with-prayer-toasts/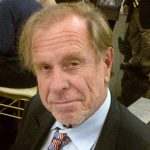 Al Benson is an Aurora-based freelance photo-journalist. He is currently an archives research specialist at Aurora University. His work has appeared in The Voice, The Daily Herald, The Beacon-News, and the Chicago Tribune.