Why did Darwish fail so miserably in one of the most densely populated Arab congressional districts in the state?
Hesham Shehab: Palestinian-American Congressional Candidate Loses Big in Illinois' 'Little Palestine' District
By Hesham Shehab
Palestinian-American Rashad "Rush" Darwish was the first Muslim Palestinian to run for elected office in Illinois' 3rd congressional district, an area comprising Chicago's southern suburbs and "Little Palestine," where thousands of Palestinian-Americans live and work. Despite this favorable constituency, Darwish's decision to neglect local issues and prioritize the distant Palestinian-Israeli conflict may have led to his March 17 defeat in the Democratic primary.
Darwish was born in Chicago to Palestinian immigrants and spent some of his childhood living in the Palestinian village of Beitin, near Ramallah. He graduated from the College of DuPage Illinois Center for Broadcasting and owns a multimedia production company called Rush Productions.
Arab-American families moving from both Chicago and the Middle East have settled on the city's southside, making it one of the largest Arab and Palestinian communities in the U.S. According to the University of Chicago, there are as many as 120,000 Palestinians in the Chicago area, comprising around one-sixth of the population in the 3rd district.
However, Darwish never stood a chance in the Democratic primary, coming in third place with only 6,070 votes, and trailing behind incumbent Dan Lipinski (46,315 votes) and the winner, Marie Newman (49,098 votes).
Why did Darwish fail so miserably in one of the most densely populated Arab congressional districts in the state?
Focusing on his Palestinian supporters, Darwish seemed to forget that the 3rd district is also home to the largest Polish-American constituency in the country. Yet, when it comes to ordinary domestic issues that affect all Chicagoans, Darwish was a fence-sitter. The Chicago Sun-Times called him "the man in the middle" when it comes to everyday domestic and social issues, while noting his penchant for discussing "Palestinian rights."
"I am running for Congress because I am going to represent the largest Palestinian community in the country," he said in a June 15 speech.
Last June, when Darwish announced his candidacy, he recalled his childhood in the Palestinian Territories, where he saw friends and family detained or harassed "for no reason whatsoever" by an occupying military force. The candidate said that his time there made him understand: "This is home. This is Palestine."
Also in June, Darwish falsely accused his opponent Lipinski of taking a $15,000 donation from the American Israel Public Affairs Committee (AIPAC), even though the Jewish nonprofit may not legally endorse or contribute to political campaigns. Similar accusations have provoked controversy at the national level. Somali-Muslim Congresswoman Ilhan Omar (D-Minn.) experienced a bipartisan backlash when she declared, "It's all about the Benjamins," to suggest that Jewish groups like AIPAC are buying political support.
Similarly, Darwish accused Newman, the eventual primary winner, of changing her mind by opposing the Boycott, Divestment, and Sanctions (BDS) movement. BDS is an anti-Israeli movement that aims to economically and politically isolate Israel, undermining the legitimacy of the Jewish state in order to destroy it.
According to Darwish, Newman was "asked by key members in the community, our community, 'Marie, why the change of heart?' She admitted, 'I want to attract more Jewish donors,'" he said.
Newman called this "an absolute lie" and insisted that she would never "sacrifice my views to attract a specific set of donors."
As a radio host in 2015, Darwish berated his guest, City Hall reporter and Arab-American columnist Ray Hanania, for "praising the Israeli people and the Jewish civilization as if they are great people." The future congressional candidate was relentless: "You are a Howard Stern, because you love the Jewish media, you love the Jewish people, they stole our Hummus … no! … they stole our food, our culture, you love them!"
Ultimately, Darwish's pro-Palestinian agenda drove a wedge through Chicago's mixed bag of Arab communities, which was already fractured along ethno-sectarian lines. Anna Mustafa, a Palestinian American trustee on the Chicago Board of Education, told Arab News in July that Chicago's Arab American community is plagued by divisions.
Many Christians, such as Assyrians, Copts, or Maronites, immigrated to America from the Middle East and reject the Arab identity, viewing themselves as distinct ethnic communities. They frequently come to the West bearing the trauma of war or persecution perpetrated by Muslim-majority governments.
Still, Mustafa was hopeful that the upcoming 2020 national census would help Arabs obtain a united voice in Illinois politics. Yet, according to Arab News, the school board official grew pessimistic from her experiences: "The real problem is that many other Arab American organizations have focused on political power and funding, which has fueled divisions within the community," she said.
True to form, Darwish searched outside his own district for financial support, targeting Arab donors in Washington, California, Texas, Missouri, Wisconsin, and North Carolina.
Darwish was ultimately unsuccessful at unifying Chicago's diverse Arab community around his singular campaign strategy. For instance, Future News, a local Arab American newspaper, unexpectedly endorsed Newman, who was expected to enjoy the support of many Christian Arabs.
Hosting a podcast in June, Hanania predicted that Darwish would lose the primary because he was "too close to the controversial elements in the Arab community," who would "drag him down."
Indeed, Darwish is not only too close to those problematic organizations, he is active with two groups connected to Palestinian terrorists. The failed congressional candidate has appeared in protests with the Campaign to Take on Hate, an Islamist coalition that glorifies convicted terrorist Rasmea Odeh and includes notorious anti-Semite Linda Sarsour on its leadership committee.
Darwish is also affiliated with the Palestinian Children's Relief Fund (PCRF), a charity which according to the New York Times has been identified as a front for Palestinian Islamic Jihad, a designated terrorist organization. Before it was shuttered in 2001 for funding terrorism, the Holy Land Foundation charity "coordinated efforts" with PCRF, which has featured activists who promote violence against Israeli soldiers.
Darwish pursued an ethnocentric strategy and obsessed over divisive foreign policy issues that only succeeded in alienating Arab voters. His anti-Semitic statements, affiliation with controversial Islamist groups, and focus on the Arab-Israeli conflict each contributed to his political demise. However, for any candidate to succeed in the 3rd district, they must offer solutions to problems which affect every citizen, rather than just pandering to their own political tribe.
Hesham Shehab is a Chicago Associate at the Counter-Islamist Grid, a project of the Middle East Forum.
---
Read more from Hesham Shehab… https://xpian.news/?s=hesham&submit=Search…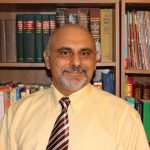 Adjunct Faculty at College of DuPage, Formerly Adjunct Faculty at American University of Beirut and Pastor at Peace Lutheran Church Lombard, IL Name pronounciation: HI-shahm SHI-hab  Hebrews 12: 4 & Philippians 1: 29