Last Sunday (, October 27th), Abdelnasser Rashid, 30, announced his bid for Cook County Board of Review...
Hesham Shehab: Islamist Running for Chicago Office
Last month (October 27th), Abdelnasser Rashid, 30, announced his bid for Cook County Board of Review as an independent democrat in 2020.
Rashid, currently the Chief Policy Officer for Cook County Assessor Fritz Kaegi, ran for Cook County Commissioner office in 2018 and almost won. It was so close a call that the Council on American Islamic Relations (CAIR)- Chicago gave him the  Trailblazer Award at its 15th annual banquet in February 2019.
CAIR is connected to Hamas: Hamas, designated a terrorist organization by the U.S. and many other governments. Hamas indirectly created CAIR and the two groups remain tight. Examples: In 1994, CAIR's Executive Director Nihad Awad publicly declared his support for Hamas; and the Holy Land Foundation (HLF), a Hamas front group. Federal prosecutors in 2007 named CAIR members as "unindicted co-conspirators and/or joint venturers" in a criminal conspiracy to support Hamas financially.
CAIR- Chicago board member Ahlam Jbara, who organized* U.S. Representative Rashida Tlaib (D-Michigan) campaign, appeared in Rashid's Facebook post among family and supporters. Most probably Jbara played a big role in organizing his last campaign. Jbara's CAIR page states that she "has led the voter registration and get out the vote campaigns on the southwest side in the Muslim community, has trained youth and adults on civic engagement and organizing." Rashid thanked his audience at the CAIR-Chicago Award night, and stated that he would not have done well without their support.
Also, Bassem Kawar, a leading activist with "Take on Hate" (TOH) appeared among Rashid's close circle of supporters in that post. TOH is notorious for glamorizing Rasmea Odeh, a convicted Palestinian terrorist.
In 1970, Odeh was convicted of two bombings in Jerusalem, including one that killed two young men at a supermarket. She was sentenced to life in prison but was released in 1979 as part of a prisoner swap between Israel and the Popular Front for the Liberation of Palestine. Odeh lived in the Chicago area, but was deported in 2017 after she was convicted of immigration fraud.
In addition, the Muslim Educational Cultural Center of America (MECCA) near Chicago, an Islamist den, had hosted Rashid and supported him in his bid for Cook County Commissioner in 2018.
Rashid could have been a young promising Chicago official if it were not for his long Islamist ties. The candidate for the Cook County office graduated from the prestigious Harvard University and was the president of a Muslim student organization on campus, Harvard Islamic Society (HIS) in 2012.
HIS has been accused of anti-Semitism, had raised funds for the HLF, and called for Harvard University to cut its financial ties with fifteen separate corporations — including McDonald's, IBM, and Motorola — simply because they conducted business with, or in, Israel.
Also, that Islamic student organization is known for its bias against moderate Muslim scholars and activists. For example, Rabia O'Chaudry, the New York Times best-selling author, was disinvited from speaking at HIS annual dinner in 2018 because of "pressure from some alumni and her board members," after HIS learned that O'Chaudry "did a study fellowship w [with]/an Israeli seminary."
Furthermore, HIS has participated several times in the Muslim Students Association's (MSA) annual "Ramadan Fast-a-Thon" along with nearly 280 fellow Muslim organizations (mostly chapters of MSA). The purpose of this annual event is "to raise money to help fight child hunger and poverty."
However, the MSA was established mainly by members of the Muslim Brotherhood (MB) in January 1963 at the University of Illinois, Urbana-Champaign. The creation of MSA resulted from Saudi-backed efforts to establish Islamic organizations internationally in the 1960s, for the purpose of spreading its Wahhabist ideology across the globe.
Recent endorsers of the Fast-a-Thon include:
-Sheikh Muhammad Nur Abdullah, former President of the Islamic Society of North America (ISNA).
-Sheikh Abdullah Idris Ali, former President of ISNA.
ISNA was established in July 1981 by U.S-based members of the Muslim Brotherhood.
Imam Zaid Shakir, Yale University's former Muslim chaplain who has expressed his desire to see the United States eventually become "a Muslim country ruled by Islamic law."
Also, HIS Facebook page links to Islamic Circle of North America (ICNA), and HIS partners with them in fundraising. ICNA has been probed by the FBI for ties to terrorism, and works closely with radical Islamic organizations and invites radical speakers to its conferences.
Given his qualifications and young age, Rashid may have a long political career ahead of him, and it sounds that he is trying to climb the political pyramid step by step.
Rashid is the third Islamist candidate who declares that he is running for office in Illinois, after Rush Darwish (running for U.S. congress) and Azam Nizamuddin (running for Dupage County Circuit Judge). Such Islamists are forging alliances with progressives and using liberals to set up Islamist networks that would eventually undermine Western freedoms. Americans, both conservatives and liberals, ought to know that supporting such candidates would lead to the demise of liberal democracy.
Hesham Shehab is the Chicago associate of the Counter-Islamist Grid (CIG)
*This information was mentioned at the 2018 American Muslims for Palestine Convention in Chicago. This author was then present.
---
Read more from Hesham Shehab at XPian News… https://xpian.news/?s=Hesham&submit=Search…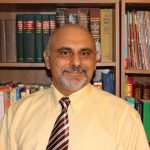 Adjunct Faculty at College of DuPage, Formerly Adjunct Faculty at American University of Beirut and Pastor at Peace Lutheran Church Lombard, IL Name pronounciation: HI-shahm SHI-hab  Hebrews 12: 4 & Philippians 1: 29