On this Christmas season, Christian communities in the Middle East are suffering from persecution and displacement.
Opinion: Christmas in Iraq Will Never be the Same
 On this Christmas season, Christian communities in the Middle East are suffering from persecution and displacement. This should be a concern for Western Christians more than the wholesale embracing of the globalized and commercial version of Christmas.
The Christian communities in Iraq, in particular some of the oldest in the world, have endured invasions and occupations by many imperial powers, but they may never recover from the US invasion and the spiral of events it set in motion.
The majority of Iraqi Christians are Assyrians, who belong to the Catholic Chaldean or Orthodox denominations. They have roots in the region that go back two thousand years. The Biblical Patriarch Abraham came from Ur, which scholars believe was located two hundred miles south of Baghdad.
The persecution of Christians in Iraq began as early as the thirteenth century. But in recent years it has reached a tipping point, setting off a mass exodus.
The consequent sectarian struggle in Iraq, an oil state, led to not only the rise of the Islamic State, but also to a ruined economy that is driving Christians to the West in large numbers. Iraq's Christians throughout late Iraqi President Saddam Hussein's regime saw better days, and some of them were part of his cabinet. But after 2003, Islamist militias, both Shiites and Sunnis, preyed on them. Since then, Iraq's Christians have been victims of kidnapping, extortion, and almost genocide.
Awad Musa and his wife Sabrina, who hail from Mosul, are now in their eighties, and came as refugees to West Chicago, Illinois, in 2014.
Before the fall of Saddam's regime, there were nearly 1.4 million Christians in Iraq. Today there only are a few hundred thousand left. "Christians were 35% of the Mosul population," said Awad.
Awad was a banker and had lived happily in Iraq before the US invasion of 2003 and raised all his three children there.
"Colleges were free under Saddam Hussein, and nobody could discriminate against Christians," said Awad. "Everything was provided to students. College administrations, even, offered free lunch. Once you graduate, the government would find you a job," Awad added. "We celebrated Christmas at clubs with family and friends until the wee hours of the morning. But now no Christian can go out at night," opined Awad. "We were at good terms with our Muslim neighbors. I had even worked in an Islamic bank. I was the manager, but the only Christian in the whole institution. All Muslims respected me and were kind to me," he said. "But now, if you are Christian and well-to-do, militias would kidnap you for a ransom. Even if the ransom were to be paid, the victims would be found dead or not found at all," added Awad.
Awad and Sabrina were willing to keep a low profile and stay in Iraq, but the security situation deteriorated tragically since 2006. "The straw that broke the camel's back for me was when terrorists attacked a church in Baghdad in 2010, killed many worshipers and left others badly wounded." he said. "Later Father Faraj Reho, a Catholic priest, was kidnapped by a radical Islamic militia, tortured, and was told to convert to Islam or die. Father Reho refused their offer and died under torture. His body was found in the street," Awad concluded.
Before her defeat, the Islamic State in Iraq and Syria (ISIS) banned Santa Claus on Christmas, and threatened to behead anyone who played that role.
But last year, a female Iraqi teenager inspired by the defeat of ISIS in Mosul donned the red suit and beard and brought Christmas back to the town it was banished from for three long years.
"I decided to dress as Santa Claus, visit the people and give them a simple gift: a message of hope, love and peace," Ghenwa Ghassan, 17, said as she handed out coloring books and toys.
A video of Ghenwa, a slim young woman meandering joyfully through the ruins of Mosul, had gone viral in Iraq, where Christmas  seemed to be catching on as symbol of a better future even among some Muslims.
The role of the Middle East in early Christianity is of great importance. The survival of Christians there should be an international concern, and the role of Arab Christians in history of Islam and the world was very significant.
"I want to end my life in peace. I am a peaceful person who loves all human beings and wish Muslims well. But I will never return to Iraq, because there is no hope for the future. We have corrupt governments and Islamic militias that are Iranian puppets. If you do not have clout with both; the government and the militias, you will not be able to live and work in Iraq. In addition, how could a common Iraqi person live there with no infrastructure, no public services, and no security?" Awad concluded.
Apprehensive at the idea of their photo published, and fear of retribution against his family and relatives in Iraq, Awad asked this author to blot their faces and change their names in this article.
Hesham Shehab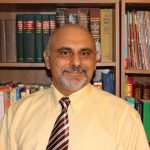 Adjunct Faculty at College of DuPage, Formerly Adjunct Faculty at American University of Beirut and Pastor at Peace Lutheran Church Lombard, IL Name pronounciation: HI-shahm SHI-hab  Hebrews 12: 4 & Philippians 1: 29