The two congresswomen belong to such communities that demonize Israelis and Jews...
Opinion: Omar's Anti-Semitic Tweet, Tip of the Iceberg – Tlaib Dancing with Palestinian Flag, Betrayal
Congresswoman's Ilhan Omar's recent anti-Israeli tweet is not an isolated case in Islamic communities in North America where the Anti-Semitic imagination drives many to believe that Jews run the world. Her colleague in congress, Palestinian American Rashida Tlaib, is planning to lead a congressional delegation to the Occupied West Bank, a trip which is viewed as a response to the known tradition for new members of congress to Israel; sponsored by the American Israel Public Affairs Committee (AIPAC).
According to many reports, conspiracy theories are rife in Middle Eastern communities, and even the September 11, 2001 terrorist attacks on Washington and New York, are seen by some Americans and Muslims as a Jewish-Israeli conspiracy. Anti-Semitism springs from cultures of victimhood and paranoia, and an apology by Omar would not solve that deep-rooted malady.
The two congresswomen belong to such communities that demonize Israelis and Jews, and hold anti-Semitic conferences and events, led by former Hamas operatives and sympathizers.
Tlaib was elected to Congress last November, along with Omar, who replaced outgoing Rep. Keith Ellison in Minnesota's 5th congressional district. Ellison was the first Muslim elected to Congress. Both Tlaib and Omar have expressed anti-Israel views. Tlaib claims to be the first Palestinian-American elected to Congress, which is not true.
There have been several congressmen who have claimed Palestinian descent: Justin Amash who represents Michigan's 3rd Congressional District, and John E. Sununu, who served in the House from 1997-2003.
However, there was a Palestinian-American in the House long before any of them, who was in fact the only one who was actually a citizen of "Palestine," and who had a Palestinian passport. But he was Jewish- Hans Joachim Krebs. Krebs was elected to Congress from California's 17th district as a Democrat in 1974, and served until 1979.
Hence, Tlaib's claims to be the first Palestinian elected to congress are conflated in order to fit an anti-Israeli agenda and rally Palestinian and Arab Americans around the Palestinian question.
When Tlaib delivered her victory speech, she said that her family was watching from abroad in West Bank. She dedicated her victory, in part, to the Palestinian cause: "A lot of my strength comes from being Palestinian," she said.
After Tlaib won her primary race in August, she published several anti-Israel tweets, and re-tweeted a fan who declared that Tlaib's "first fight was for Palestine, always Palestine."
Tlaib explicitly supports the destruction of the Jewish state of Israel and its replacement of a Palestinian state; from the river to the sea.
Also she declared her support to the Boycott, Divestment, Sanctions (BDS) movement, and announced that she was planning an alternative to the American Israeli Public Committee's tour for new legislators, a tradition that has been followed for years.
Tlaib made headlines after she vowed to "impeach the motherf—" during a party in celebration of her being sworn in to Congress.
A Change.org petition calling for Tlaib's impeachment already has close to ¼ million signatures.
"This woman is an anti-Semite, a war mongering hate filled Palestinian who has vowed to try and destroy our constitutional rights, hates America, hates American citizens," the petition states. "She's a danger to our sovereignty, a detriment to society, and to this country, and is unfit to serve in any capacity within our government."
The petition also takes issue with Tlaib's election, claiming that she "lied about living in Detroit" by "using her father's house address."
Last November, Tlaib celebrated her victory by dancing with the Palestinian flag amid cheering family members and supporters. I wonder if her allegiance is first to Palestine or the United States of America. Before I took the U.S. naturalization oath, like every naturalized U. S. citizen, I was asked to declare, "on oath, that I absolutely and entirely renounce and abjure all allegiance and fidelity to any foreign prince, potentate, state, or sovereignty (…). In my opinion, dancing with the Palestinian flag is a breach in her loyalty to America and her constitution.
Radical Islamism and Anti-Semitism are alive and kicking in North America, and they are affecting immigrant communities; in particular, the Somali and Palestinian populations. Omar's tweet and Tlaib's extreme positions are only the tip of the iceberg, and no apologies could remedy the malady of extremism that gnaws at those communities.
Only honest and hard work to isolate and discredit radicals and encourage moderate ethnic leaders, could help build healthy immigrant communities that put loyalty to the US above all others.
Hesham Shehab
---
Editor's update: Paragraph two "would solve" changed to "would not solve"
Most recent opinion piece from Hesham Shehab: https://xpian.news/2019/02/01/opinion-world-hijab-day-promotes-normalizes-islamism/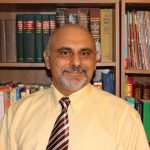 Adjunct Faculty at College of DuPage, Formerly Adjunct Faculty at American University of Beirut and Pastor at Peace Lutheran Church Lombard, IL Name pronounciation: HI-shahm SHI-hab  Hebrews 12: 4 & Philippians 1: 29