In some places, you cannot have a nativity scene without putting up a fight… or you may be frowned upon if you say Merry Christmas in public.
Hesham Shehab: Advent 3rd Sunday… How Does a Christian Develop "Spiritual Muscles?"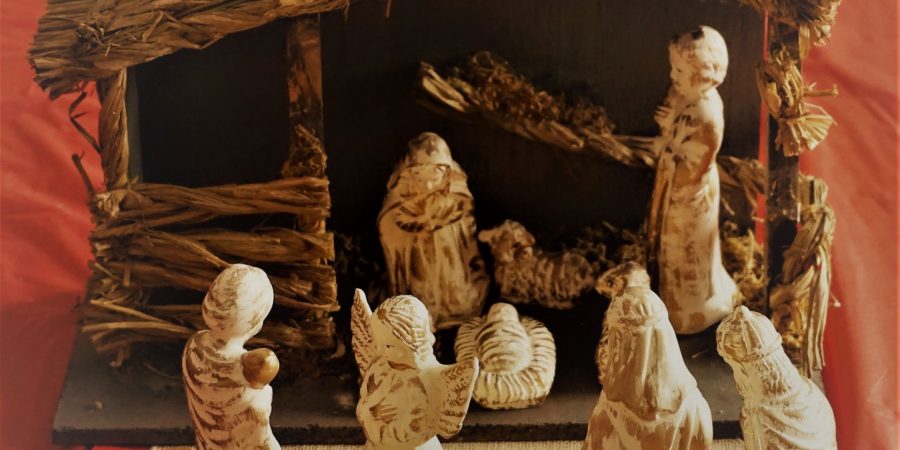 Matthew 11:2-15 English Standard Version (ESV)
2 Now when John heard in prison about the deeds of the Christ, he sent word by his disciples 3 and said to him, "Are you the one who is to come, or shall we look for another?" 4 And Jesus answered them, "Go and tell John what you hear and see: 5 the blind receive their sight and the lame walk, lepers[a] are cleansed and the deaf hear, and the dead are raised up, and the poor have good news preached to them. 6 And blessed is the one who is not offended by me."

7 As they went away, Jesus began to speak to the crowds concerning John: "What did you go out into the wilderness to see? A reed shaken by the wind? 8 What then did you go out to see? A man[b] dressed in soft clothing? Behold, those who wear soft clothing are in kings' houses. 9 What then did you go out to see? A prophet? Yes, I tell you, and more than a prophet. 10 This is he of whom it is written,

"'Behold, I send my messenger before your face, who will prepare your way before you.'

11 Truly, I say to you, among those born of women there has arisen no one greater than John the Baptist. Yet the one who is least in the kingdom of heaven is greater than he. 12 From the days of John the Baptist until now the kingdom of heaven has suffered violence, and the violent take it by force. 13 For all the Prophets and the Law prophesied until John, 14 and if you are willing to accept it, he is Elijah who is to come. 15 He who has ears to hear, let him hear.
Over the past few decades, it's become standard practice for Hollywood and the news media to portray Christians and Christian leaders for the most part as bumbling buffoons, crazed zealots, or pathetic wimps. While there's been no shortage of bad examples within Christianity to feed these notions, I think it's fair to say that believers are generally represented in rather negative ways.
In some places, you cannot have a nativity scene without putting up a fight… or you may be frowned upon if you say Merry Christmas in public.
The truth of the matter is that we are often hypocrites, and it does hurt to have our mistakes hung out on the line for all the world to see. Yet outsiders love to make fun of our faith. If you can believe in a cow…or worship a stone, you would be respected, but not if you believe in Jesus Christ as Lord and Savior.
We find ourselves living in a largely pagan culture, where even many of those who call themselves Christians demonstrate very limited knowledge or practice of the faith.
We may be heading back towards the days when church was persecuted. The early disciples were not discouraged or intimidated.
Some like St. Paul did not mind. He said: "When slandered, we entreat. We have become, and are still, like the scum of the world, the refuse of all things." (1 Corinthians 4:13)
It's therefore good to regularly challenge ourselves about our faith, to undergo a spiritual "gut check" of sorts…I check my engine oil almost every week, or before any long trip I need to take. Like an athlete preparing for a sporting event or a soldier training for combat, we need worship and Bible studies as exercises to emphasize the fundamentals, and to strengthen and sharpen our Christian knowledge and skills. Having a regular worship life, just like having a regular workout plan in the gym, is a key element of this exercise.
In that worship, we find ourselves confronted with a variety of faith-building activities that leave us spiritually toned and conditioned. In confession, we acknowledge our sins and engage in that ongoing life of repentance.
Before going on, I need to say that I am not talking about spiritual exercises that are like Eastern spirituality… when we come to the Church of Jesus Christ, we are served.
This is why it is called in German Gottesdienst.
The most precious gifts and treasures our Lord gives us are His forgiveness, life and salvation. Through His innocent life and bitter sufferings and death, Christ has purchased and won us from sin, death and the devil.
Jesus Christ serves us again and again as His Gospel is proclaimed, as His people are baptized and as His Word is read. He serves us as His forgiveness is pronounced and penitents absolved. He serves us as He gives us His body and blood under the bread and wine to eat and to drink. This is how our Lord gives us forgiveness, life, and salvation. What a blessing it is to be called and gathered for worship by our good and gracious God!
In the liturgy and in the creeds, we repeat and ingrain the patterns of our praise and our beliefs that are as basic as sit-ups, and pushups. In the offering, maybe something very few like, we lay it all out there on the field—the mission field—committing ourselves to the goals our Savior has given us. We hold nothing back from Him, the source and the object of our faith.
And finally, in the reception of the Lord's Supper, we are given the refreshment and nourishment we need to be cleansed and strengthened in preparation for confronting a hostile world our own sinful nature.
If you get bored… sometimes we all do… sometimes the sermon could be offensive…When the Obama administration passed a legislation allowing same-sex marriage … I was preaching that weekend and offended some people…
If we reject those basics, worship and Bible study, we're not going to be spiritually fit and strong. Our faith will atrophy. Our soul will get flabby, and our heart for God will get clogged with the fat things of this world and painfully die.
If we can take offense at what God shows us and gives us, and ignore or reject these warning signs like much of the world does. If we do, we'll be far more popular with others, more acceptable to the world…but the outcome would be our eternal death and damnation.
On the other hand, you can heed God's warnings, hear His promises, and not take offense. You can get your spiritual exercise, remain strong in the Lord, let Him help you withstand the temptation to fall away and you will live.
Jesus issues such a warning in today's Gospel lesson.
He wants those who asked him to explain—or at least to contemplate in response to His rhetorical questions—their prior behavior concerning John the Baptist. Why had they come to see John?
Had they spent the time and undertaken the hardships to travel merely out of curiosity?
Or was it that what John was preaching and doing resonated with something deep within them—a deep void and hungry longing that begged to be filled and satisfied?
Doing things according to John's preaching would not make you wealthy or popular, or comfortable, or healthy—or buy you a private jet and beachfront homes, either.
John's message was a message of tough love. He didn't sugarcoat it. "Repent, for the kingdom of heaven is at hand!" was John's message. In other words: "Turn around from your current direction, because only death awaits you if you don't!"
That's never going to be a popular message. It will always give offense. People who hear it usually reject it… How often do we really like to hear that we are wrong—dead wrong?
But repentance, a fleeing from evil, and denial of self wasn't the end. Nor was John the conduit of the Gospel in all its fullness, either. John was the preparer—not the server, not the fulfiller of the Gospel. Jesus says to the crowds that among those born of women, no one who is greater than John the Baptist. And that's completely true—those who are merely children of the flesh, no matter their fame and wealth and power and accomplishments in this life, can never hope to measure up to that brash, rough-and-ready tough guy, John.
That's because John's greatness isn't measured on account of his birth of a woman—even if it was a miraculous birth from the womb of aged Elizabeth. John's greatness is only in the righteousness he received from Christ—the same origin from which your only true greatness comes. It is a greatness not your own, because it is a righteousness not your own.
Our sinful nature wants to rebel against an external, foreign righteousness and greatness, because we want the glory of greatness for ourselves. This is why the world finds the message of salvation by grace alone through faith alone in Christ alone so offensive. It's why Christians and Christianity suffer rejection, ridicule, and even violence.
Yet even when seemingly imprisoned by our culture, with the threat of imminent death looming over us, the Church must not quiver like a reed shaken by the wind, because we have another task.
Upon us has fallen the mantle of John the Baptist to proclaim that the kingdom of heaven is at hand. We follow the path of the apostles, and we convey the message of repentance and the coming Messiah to a world that prefers the comfort of worldly palaces to the offense of the wilderness.
But our message carries even more news now than what John had to tell: The kingdom has already come. It dwells among us, in the flesh and blood of Him who is the firstborn of woman and Spirit, the eternal, only-begotten of the Father, the first crop of Calvary's tree of salvation, and the first-fruits of all who will arise from the grave.
Let the offense of the message of repentance and salvation be your assurance that God's way is not the world's way. Grasp firmly to the promises of Christ with the strong, exercised muscles of faith that Jesus gives you. Let Jesus keep you as a cleansed, healed, and hopeful child of our heavenly Father, now and forever.
Amen
Hesham Shehab
---
Read more from Hesham Shehab at XPian News… https://xpian.news/?s=Hesham&submit=Search…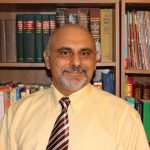 Adjunct Faculty at College of DuPage, Formerly Adjunct Faculty at American University of Beirut and Pastor at Peace Lutheran Church Lombard, IL Name pronounciation: HI-shahm SHI-hab  Hebrews 12: 4 & Philippians 1: 29