Fourth Sunday in Advent
Hesham Shehab: 4th Sunday of Advent… Do Not Fear. God Is with us.
Sermon text preached by Rev. Hesham Shehab
Sunday, December 18, 2022
Resurrection Lutheran Church, Crown Point, IN
Text: Matthew 1:18–25
Do Not Fear. God Is with us.
An American writer once said, "Family love is messy and has an annoying and repetitive pattern, like bad wallpaper."  I agree with him – family love is very messy. But quite honestly, life is very messy.  And, the Bible is honest about this messiness as it contains stories of all kinds of people in the depth of messiness and dysfunction.  One of the beautiful aspects of scripture is that it speaks the truth about our very lives, the truth about the messiness that creates all sorts of problems within families and communities. It does not show or promote cutouts like other so-called holy books. That messiness makes it more difficult for us to live in relationship with others.  Sometimes, messiness makes us unable to respond in a healthy manner… our inability is usually rooted in some aspect of fear.
In today's gospel reading, Matthew focuses on Joseph who faces a very messy situation!  Matthew focuses on Joseph and the heart-wrenching struggle he was facing. In a shame culture, the woman to whom he is engaged, the woman to whom he is contractually espoused, is pregnant.  Mary and Joseph have not yet moved in with each other, and Joseph experiences extreme heartache as he faces a very messy situation.  Mary is pregnant and this could only mean one thing, she has been unfaithful.  Can you imagine the emotions Joseph must have had when he heard this news?   Anger, shock, shame, hurt, disappointment, betrayal, fear and a need to distance himself from that mess.
Matthew calls Joseph "righteous." So, instead of stoning, as the Jewish law dictates, Joseph decided he would quietly dismiss Mary as his wife.  A quiet dismissal would hopefully minimize the public disgrace she would have to face. Personally, I think Joseph was thinking the right way. If a marriage starts on the wrong foot, it would be very difficult to rectify.
Joseph, all on his own, couldn't possibly imagine how God could be present in so utterly messy, so heartbreaking, and so dangerous a situation as Mary's pregnancy meant stoning to death. Therefore, God had to help him out.
Joseph was afraid.  He was afraid to take Mary as his wife.  The gospel writer tells us that, in the deep darkness of sleep, God came to Joseph in a dream.  An angel of the Lord spoke to him saying, "Joseph, son of David, do not be afraid to take Mary as your wife, for the child conceived in her is from the Holy Spirit.  She will bear a son, and you are to name him Jesus, for he will save his people from their sins."  God brought truth, grace, forgiveness and love into the messiness of Joseph's mind, heart and being.  In ways deeper and more magnificent than we could imagine, God changed Joseph.  And because God changed Joseph, Joseph became a channel of God's grace in the world.
In the depth of the messiness of life, in the mire of fear and shame, Joseph finds God's presence.  God penetrated the darkness and fear within Joseph, and that experience of God led Joseph to take Mary as his wife and name the child "Jesus" which means "God saves."
Now, Matthew was writing to a Jewish Christian audience, people who knew Jewish scripture.  So, the gospel writer connects Joseph's experience to the words of the prophet Isaiah saying,
"Look, the young woman is with child and shall bear a son, and they shall name him Immanuel."   (Immanuel is the Hebrew word for "God with us").
The truth about the Isaiah passage we read earlier today is that when Isaiah spoke these words to King Ahaz, the king was not very hopeful.  Ahaz was living in fear and he was sure he would be defeated at the hand of the conquering Assyrians.  However, Isaiah pointed to the eternal sign of hope and new life for all people in any time saying, "a young woman will conceive and bear a son."  Isaiah names the child as a sign of God's presence:  Immanuel God with us. Immanuel, God with us!  These are powerful words packed full of meaning and, centuries after Isaiah, Matthew connects these
words to Jesus' birth. These words gave Jesus an identity, but they do not simply describe Jesus.  These words "Immanuel, God with us" were part of Jesus' very vocation.  Jesus' calling was and is to manifest and make known God's presence in people's lives and save people from their sins. Jesus' calling then and now, is to manifest and make known God's presence to us in the depth of our fear and the messiness of our lives.
So, I ask you, what are the messes in which you live?  Listen to the voice of God's presence in your life, the voice that will penetrate the darkness of any situation, the voice that always says, "Do not be afraid."   Listen to the voice that says, "You are loved, and your sins are forgiven."
Christmas is all about God's presence to us, Immanuel God with us. Christmas is all about incarnation.  Christmas is about the love and grace of God that is on the way, the love that is in fact already here!!
Christmas is God's invitation to each one of us to experience within ourselves the love that forgives sin and the love that comes to bring healing to the world.  And, it is only the presence of Immanuel, God with us, that transforms the messy patterns of living and enables us to live into the Kingdom of God where all things are made new.
May the God of hope fill you with all joy and peace as you trust in him, so that you may overflow with hope by the power of the Holy Spirit.
Hesham Shehab
---
Read more from Hesham Shehab… https://xpian.news/?s=hesham&submit=Search…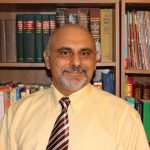 Adjunct Faculty at College of DuPage, Formerly Adjunct Faculty at American University of Beirut and Pastor at Peace Lutheran Church Lombard, IL Name pronounciation: HI-shahm SHI-hab  Hebrews 12: 4 & Philippians 1: 29