[Judson University] hosted former President George W. Bush...
From a Bush to a Kennedy, Judson University bridges political divide with diverse speakers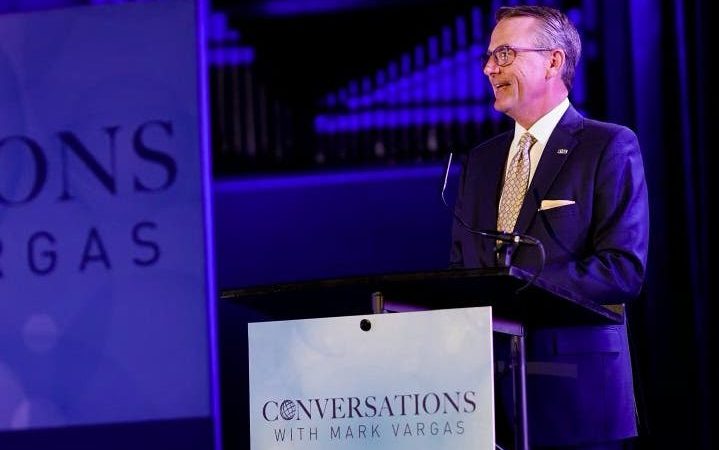 By Tom Siebert
July 7, 2021 ELGIN, Ill. — During the past politically divisive decade, the World Leaders Forum at Judson University has served as a civilized oasis of public policy debate among heads of state from around the globe.
The Christian college began the event with a big bang in April 2011 when it hosted former President George W. Bush as the forum's first keynote speaker, followed the next year by Mikhail Gorbachev, the last leader of the Soviet Union.
"My decision to say yes to Judson had a lot to do with the success of the World Leaders Forum," said Dr. Gene C. Crume, who became the Elgin university's sixth president in 2013, after serving at St. Mary's University in Minnesota, the Peru State College Foundation in Nebraska, Midland Lutheran College in Nebraska, the Indiana State University Foundation, and his alma mater Western Kentucky University.
"It's not about partisanship or advocacy," Crume said of Judson's now-globally known and highly esteemed speakers series. "We want there to be thoughtful dialogue. The audiences are always very receptive and very engaged."
Subsequent guests of the university were ex-British Prime Minister Tony Blair; former Mexican President Felipe Calderón; Her Majesty Queen Noor of Jordan; author, attorney, and diplomat Caroline Kennedy; and jointly, former U.S. Speaker of the House Newt Gingrich and ex-Vermont Gov. Howard Dean, who also served as chair of the Democratic National Committee.
The keynoters are not required to share Judson's faith views nor are there any restraints on what they can discuss, Crume said.
For instance, when the daughter of the late President John F. Kennedy, Caroline, appeared before the forum in October 2019, she chose to veer far away from politics.
"I don't wish to contribute to the divisiveness in our country at this time," Kennedy told an audience of more than 500 at the Renaissance Schaumburg Convention Center Hotel.
She then proceeded to regale the crowd by reciting poetry, playing trivia, and telling stories about her famous family.
"As a Christian university, we know who we are," Crume explained. "But the Scriptures are really clear about this––we do engage in the world."
The forum has also drawn speakers from the realm of entertainment such as Mark Cuban, owner of the Dallas Mavericks basketball team and star of ABC-TV's "Shark Tank," and last month, actor Terrence Howard, who spoke about his newly invented drone technology, even demonstrating an unmanned aerial device on the campus grounds.
Moderators of the annual event have included conservative commentator Eric Metaxas; TV news reporter Lisa Chavarria of NBC 5 in Chicago; and business/political consultant World Leaders Forum, the forum's president and a 2004 graduate of the university.
Proceeds from the World Leaders Forum fund Judson's leadership scholars program, innovative entrepreneurial activities, and ongoing operational purposes.
Located in northwest suburban Elgin since 1963, Judson University offers a Christian, liberal arts and sciences education through its Bachelor of Arts degrees for more than 60 majors, minors, graduate, and online programs, as well as certification and accelerated adult degrees. For more information, visit www.JudsonU.edu.
The speakers series is held mainly at Judson's Herrick Chapel, but when ticket demand exceeds the seating capacity of that venue, the event is relocated to the larger convention center in nearby Schaumburg.
That will be the case on Nov. 5 when retired U.S. five-star Gen. David Petraeus will speak at the forum, after the COVID-19 health crisis led to the postponement of his scheduled appearance last year.
Crume asserted that Petraeus is a perfect pick for the nonpartisan event because he served under both Republican President George W. Bush and Democratic President Barack Obama.
Petraeus, who led U.S. troops in the Iraq and Afghanistan wars, will no doubt be asked to discuss President Joe Biden's decision to conclude America's combat missions in those countries later this year.
"The timing is very interesting," noted Crume. "There should be some unique and compelling questions."
---
Read more news at XPian News… https://xpian.news