"Judson began as an undergraduate college in 1913 as part of the Northern Baptist Theological Seminary..."
Judson University honors past and present leaders at Founders' Day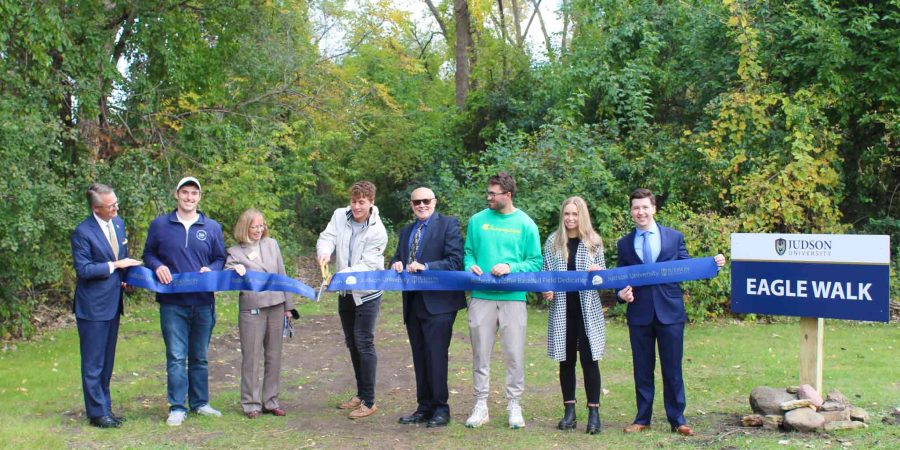 By Tom Siebert
ELGIN, Ill., Oct. 31, 2021 — It was a time for remembrance and rejuvenation as Judson University recently held its 58th Founders' Day (Oct. 22, 2021) with inspirational talks, recognition of service, and a ribbon-cutting ceremony for the Elgin school's new 14-acre nature trail and classroom area.
"Throughout the day's celebration, leadership of the university honored those who helped to establish Judson College in 1963," said Mary Dulabaum, the university's director of communication.
"Judson began as an undergraduate college in 1913 as part of the Northern Baptist Theological Seminary," she explained. "The university was named for Adoniram Judson, the first Protestant missionary sent from North America to preach in Burma."
The Founders' Day began with a breakfast meeting of the Fox Valley Spiritual Council, which discussed the upcoming "Love Elgin" events that will be held at the campus from November 13–14.
Then the Judson students, trustees, and guests went to nearby Herrick Chapel to hear Dr. David Rendall, class of 1995, illustrate the famed Bible story of David and Goliath.
Found in the first book of Samuel in the Old Testament, the narrative tells how the protagonist David, a small boy armed with only a slingshot and stone, slew the antagonist Goliath, a giant who was stronger, much larger, and better prepared for battle.
Dr. Rendall said the biblical account mirrored an early chapter of his own story, growing up tall, thin, and picked-upon by his peers. He further recounted how he was disciplined and criticized as an eight-year-old student for talking, not staying still, and not following directions by teachers and administrators at his Christian school.
Those labels continued to stick throughout his school years, he continued. Then, as a college sophomore at Judson, a resident life staff member called this modern-day David into student leadership and said that those traits that he and others had seen as weaknesses were actually strengths and marks of leadership. This perspective changed his view of himself.
"Too often we look at others and see their weaknesses," he told the chapel audience. "God sees strength where everyone else sees weakness."
Dr. Rendall reminded students that God has prepared them with unique gifts and uses those gifts to further His plans for their lives. Today, he added, those characteristics that he was told were weaknesses are now the strengths that have helped him build a successful career as an inspirational speaker, entrepreneur, author, and stand-up comic.
Following chapel, the Founders' Day guests attended a private luncheon at which Judson President Gene Crume shared how the university had commemorated Baptist Heritage Week.
He then recognized the work of Tena Robotham, assistant secretary to the Judson board of trustees, with the Golden Eagle Award for her years of service.
Mrs. Robotham graduated from then-called Judson College in 1978 with a degree in psychology and an emphasis on human relations. She began working full-time at the school on the next day, Dr. Crume said.
During her first stint on Judson's staff, Tena worked in the development office as alumni coordinator and secretary for both donors as well as the vice president of development. She later left for a year and then returned to serve as executive secretary to the academic dean for four years before leaving again.
During those years away from Judson, Mrs. Robotham served for ten years at Northern Baptist Seminary as executive assistant to the vice president of operations and as the human resource director.
She also was assistant director of Beary Special Creations at First Baptist Church of Elgin. In addition, Tena volunteered for the alumni association, first as a board member and then as secretary, vice president, and president.
In 2009, she returned to Judson as executive assistant to the president. In this role, Tena served as assistant secretary to the board of trustees, a cabinet member for 10 years, and as supervisor for human resources and payroll for two years.
Last June, Tena's role in the president's office changed to the assistant secretary to the board of trustees, affording her more time to spend with her family.
"Judson has been very blessed by the many ways that Tena's commitment to serving students and serving the mission of Judson University have led her back to campus in many roles over the years," said Dr. Crume.
The Founders' Day celebration ended with a ribbon-cutting for the Eagle Walk, located on 14 acres of woodlands near Judson's Creekside building. Students in the business project management class created the trail, working with the plant operations team.
The bucolic trail features walking paths, outdoor classroom space, and sign posts of Bible verses and inspirational quotes.
To views videos of the university's Founders' Day events, visit their Facebook page or Judson's YouTube page.
Judson University is a fully accredited, private Christian institution representing the church at work in higher education. Nestled along the Fox River, 36 miles northwest of Chicago, the university is home to more than 1,200 students from 43 states and more than 37 countries.
Judson offers degrees in more than 60 different majors and minors for traditional, graduate, and adult students, ranking consistently among the best regional universities in the Midwest by U.S. News & World Report. The university has also been recognized as a "Christian College of Distinction."
---
Read more news at XPian News… https://xpian.news