Jim Wallis is trying to put Christ back into Christian with his new book… Christ in Crisis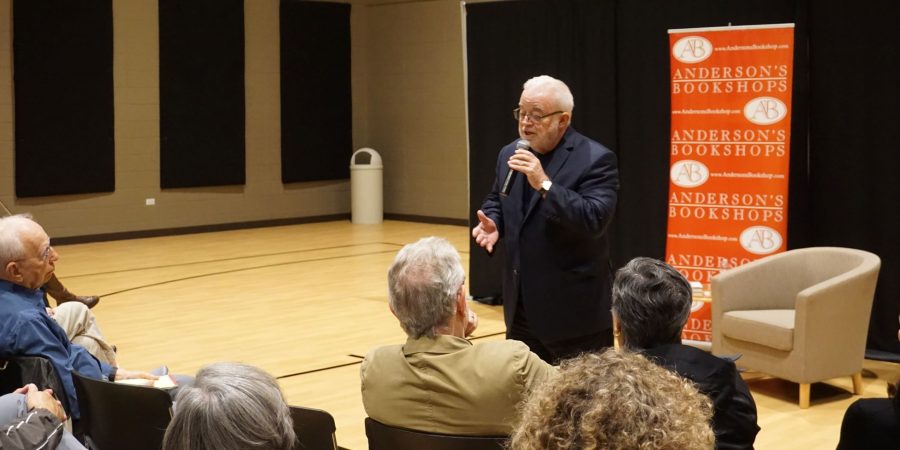 NAPERVILLE, Ill., Oct.15, 2019 — Author and evangelical religious activist the Rev. Jim Wallis paid a visit to the Christian Community Church on Tuesday evening, hosted by the Anderson's Bookshops, for a time of a discussion and book signing. He discussed with a paid audience of some 50 individuals his new book Christ in Crisis: Why we need to reclaim Jesus.
Wallis is a long-time activist since his time at Trinity Evangelical Divinity School, Deerfield, Ill., in the early '70s and the beginning of Sojourners magazine as the Post American.
He is widely quoted in the news media. A current CNN article on contemporary Christian music shows extensive quotes from Wallis.
The Rev. Jim Wallis, an activist evangelical pastor, says Christian artists "shouldn't be politicians, but they shouldn't just be entertainers."

He cites Matthew 25: 31-46, the famous parable in which Jesus said people would be judged by how they treated the poor, the hungry and the stranger.

Those issues are inseparable from politics, Wallis says.

"That would be like Jesus saying I was going to talk to you today about the poor, the hungry and the stranger, but I'm not going to because that could seem political," he says.

Wallis believes there is also another pragmatic reason for CCM artists to speak out more in the age of Trump.

In his new book, "Christ in Crisis: Why We Need to Reclaim Jesus," he says younger evangelicals and Christians of color 

are deserting evangelical churches

 "in confusion and disgust" over leaders' hypocrisy and inattention to issues of social justice.
The author noted that his new book published by Harper One reviews eight questions. He discussed a few of them.
He expounded on the biblical parable of the Good Samaritan and how it should be expressed today. Jesus looked at a neighbor as "anyone different than you."  And our president has made the country think in the opposite direction… be afraid of others.
And another concern is the misuse of the concept of "fake news." This results in the loss of truth. Wallis said the use of questions is important. His early activism came from his reading of the Sermon on the Mount and the Beatitudes in the gospel of Matthew..
The final discourse of Jesus in Matthew 25 should be the call for activism.  The Sojourner founder called this the "final test." He noted that the term "stranger" is a word use for "immigrant."
He stressed the troubling concern of white nationalism. Which he identified as racist, ant-immigrant, sexist, and anti-Christ. His elaboration on the point was that the jack-in-the-box is out… and not coming back. So we must be "salt and light."
The evening closed with a period of questions followed by a book signing.
---
Read about books at XPian News… https://xpian.news/category/books/