ISIS Blew up Churches, Shiite Militias confiscated Homes
XPian News exclusive interview: No Hope for Christians in Iraq
XPian News did this recent interview with an Iraqi Christian refugee. Abdul Ahad arrived in the U.S. in September, 2017.
XPian News: How has life been in the US for you and your family?
Abdul: Life in America has been very good. As refugees, I believe that all public administrations treat us very well. Whether it is healthcare or public aid. We are treated with dignity and respect. Life in Iraq was miserable, the last days I mean, compared to what we have today in America. We, as Christians, lived in fear and imminent danger.
XPian News: Do you still have relatives in Iraq?
Abdul: I have a daughter who has two girls and a boy. I wish we could bring them over to the safety of this great country. Whether it is the radical Sunnis like ISIS or Shiite militias, we, the Christians are caught between a rock and a hard place. While ISIS is blowing up churches and our homes, Shiite militias confiscate our land, forge deeds and sell it out.
XPian News:: Describe your journey out of Iraq?
Abdul:  I used to serve at The Virgin Mary Church parish in Mosul, as a deacon.
I left the church at 6 p.m. on my last day at the church. Just outside, a militia was holding the priest. They beheaded him, and put his head on his back.  Two of them intercepted me. They threw me on the ground and tread on my head, and threatened that if I come back to church they will kill me and my family…
I went home, and started collecting our valuables. After one week, I went to the Turkish consulate, took a visa and crossed to Turkey. My wife and I stayed in Turkey for a year and a half, waiting to be relocated in the U.S.  We were interviewed three times by U.S. officials.
XPian News: How has this experience changed your Christian outlook?
Abdul: I have experienced more love from the Church in America. I spend my time from one worship service to another. I am free to go to any church I like.
XPian News: What can the American church and our government do to help the estimated 250,000 Christians in Iraq? Or is it too late?
Abdul: I believe it is too late. The U.S. cannot help Christians in Iraq. The only thing Washington could do is to offer a safe haven for them as refugees. We are surrounded by hostile militias; the Iraqi government is corrupt and favors Shiite militias. There is no hope for Christians in Iraq. Our homes and lands were confiscated, our churches and monasteries were blown up. They massacred monks and nuns. We have no place to go back. The militias would kill us all, or drive us out again.
XPian News: Can Christianity be agent for peace and change in the Middle East?
Abdul: I do not see any effective role for Christians in the Middle East. They are persecuted, and have no means of defending themselves, or anyway even to survive and be an effective part of the Iraqi population.
XPian News: How has Rev. Hesham and Salam Christian Fellowship helped you and your family?
Abdul: We lost everything in Iraq. Above all, we lost our social life. I do not speak English. Salam Christian Fellowship has provided us with a surrogate Arab community. It is an alternative to the social life that we lost. Salam offers us a support system that helps us manage our life properly. Salam offers spiritual guidance, relief, and social services. All of those services are offered with love and respect.
I want to seize this opportunity to thank the American people for their support and believe that the freedom faith offered in this great country is the most important thing.
XPian News: Thank you so much!!
Abdul Ahad was interviewed by Rev. Hesham Shehab
---
Read more news at XPian News… https://xpian.news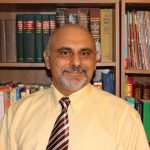 Adjunct Faculty at College of DuPage, Formerly Adjunct Faculty at American University of Beirut and Pastor at Peace Lutheran Church Lombard, IL Name pronounciation: HI-shahm SHI-hab  Hebrews 12: 4 & Philippians 1: 29