Obama, Bush and former President Bill Clinton — along with former first ladies...
Former US presidents, religious leaders launch organization to aid Afghan evacuee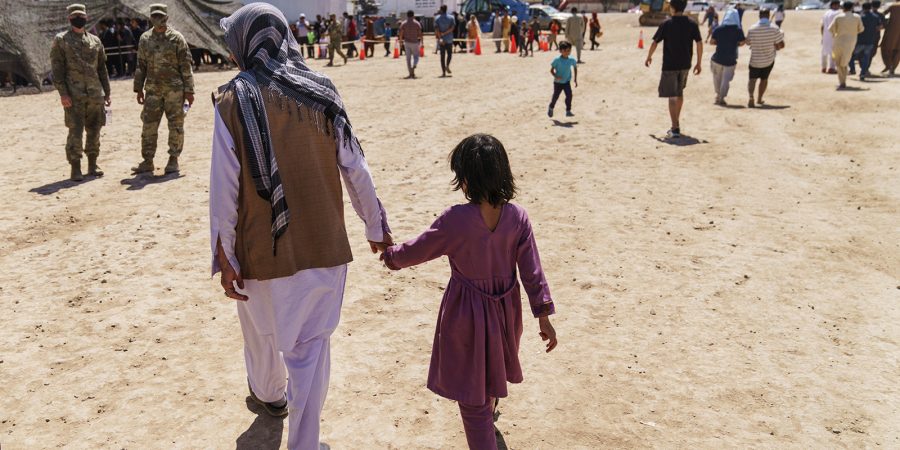 Sept. 14, 2021 (RNS) — Three former presidents and first ladies have joined with religious leaders, faith-based refugee resettlement agencies and others to support a new national organization with the goal of making it easier to help Afghan evacuees arriving in the United States.
RELATED: How to help Afghans arriving in the US after fleeing the Taliban
Welcome.US launched Tuesday (Sept. 14) to provide a single point of entry for Americans to donate to frontline organizations, host arriving families through Airbnb and find other ways to help Afghans as they rebuild their lives in the U.S. after fleeing the Taliban.
"We know that doing the work of making our new neighbors welcome is the starting point for the many ways in which their presence will enrich us all," Cecilia Muñoz, co-chair of Welcome.US, said during a virtual news conference Tuesday morning.
"This is what we do when we're at our best, and we're proud to have developed an approach to help Americans do this work together."
Muñoz, who was director of the White House Domestic Policy Council under former President Barack Obama, is chairing the organization alongside John Bridgeland, who directed the council under former President George W. Bush.
Obama, Bush and former President Bill Clinton — along with former first ladies Michelle Obama and Laura Bush and former first lady and former Secretary of State Hillary Clinton — also are serving as honorary co-chairs "to lift up everyone else involved and remind us that this is our opportunity, in a time of all too much division, for common purpose," according to the Welcome.US website.
They are joined by leaders from several faith-based refugee resettlement groups, which form the backbone of the U.S. refugee resettlement program. Those groups have been working independently to meet the needs of Afghans arriving with Special Immigrant Visas or on humanitarian parole since the U.S. withdrew troops from Afghanistan last month.
Among those leaders are Bill Canny, head of the U.S. Conference of Catholic Bishops Migration and Refugee Services office; Erol Kekic, senior vice president at Church World Service; Chris Palusky, president and CEO of Bethany Christian Services; Krish O'Mara Vignarajah, president and CEO of Lutheran Immigration and Refugee Service; and Jenny Yang, senior vice president of advocacy and policy at World Relief.
Since 2009, Lutheran Immigration and Refugee Service has supported about 10,000 Afghans through the SIV program with housing, employment assistance, medical support, cultural orientation and other resettlement services, Vignarajah said during the virtual news conference. The group has seen a "tremendous outpouring of support" in recent weeks, she said, with more than 45,000 people signing up to volunteer.
Americans are looking for ways to help, she added.
"Americans across the country and across the political spectrum … are eager to welcome Afghan allies and refugees as their newest neighbors. So many individuals, communities and congregations have a deeply personal connection to this historic effort, and they are opening their homes, literally and figuratively, once again for Afghans in need," Vignarajah said.
Bilal Askaryar, an Afghan American activist who previously worked for Church World Service, shared his family's story of coming to the U.S. as asylum-seekers in the 1990s after Soviet forces withdrew from Afghanistan. He remembers the first-grade teacher who made him feel welcome and helped him learn English.
Askaryar sees a number of parallels between his experiences and the stories of Afghans now coming to the U.S., he said.
"But there's one significant difference between when I was a kid and today: I'm heartened to see the Welcome.US campaign bring together … a whole of government approach, volunteer agencies, businesses and refugee agencies — so many smart people who have come together with a common goal of welcoming our new Afghan neighbors with dignity and compassion," he said.
Welcome.US also lists a diverse group of religious leaders as part of its Welcome Council.
Among them are Bishop Michael Curry, head of the Episcopal Church; prominent New Age author and alternative medicine guru Deepak Chopra; the Rev. Cynthia Hale of Ray of Hope Christian Church in Georgia; Walter Kim, head of the National Association of Evangelicals; Rabbi Sharon Kleinbaum of Congregation Beit Simchat Torah in New York City; Imam Mohamed Magid of the All Dulles Area Muslim Society (ADAMS) Center in Virginia, former head of the Islamic Society of North America; Rabbi Jack Moline, head of the Interfaith Alliance; the Rev. Gabe Salguero, head of the National Latino Evangelical Coalition; Rabbi David Saperstein, former U.S. ambassador-at-large for international religious freedom; and Cardinal Joseph Tobin, archbishop of the Roman Catholic Archdiocese of Newark, New Jersey.
RELATED: Safe in the US, Afghan evacuees turn their attention to the families they left behind
---
Read more news at XPian News… https://xpian.news