Advent season concludes on Christmas with the birth of Jesus.
Lighting the last Advent candle
AURORA, Ill., Dec. 20, 2020 — Sandy Mulligan of Aurora, head elder at Aurora Advent Christian Church, lights the peace (Angels) candle, fourth of four Advent-season candles, on Sunday, Dec. 20.
Advent includes the four Sundays leading up to Christmas. Fourth-Sunday scripture readings announce Christ's birth. The white candle in the middle of the wreath, the Christ candle, is lit on Christmas eve.
---
Read more news at XPian News at… https://xpian.news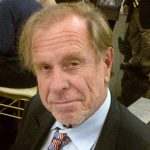 Al Benson is an Aurora-based freelance photo-journalist. He is currently an archives research specialist at Aurora University. His work has appeared in The Voice, The Daily Herald, The Beacon-News, and the Chicago Tribune.