Animals in a pen included a llama, donkey, goats and geese.
Aurora church recalls first Christmas with drive-in live nativity
AURORA, Ill., Dec. 20, 2020 — With live animals, actors in period costumes and a reading of the Biblical story of Christmas, Faith Lutheran Church in Aurora Saturday, Dec. 19, staged its fifth annual outdoor live nativity performance and the first drive-in event, due to the pandemic.
The 25-minute performance was free to the public on the church's west lawn. Vehicles filled the parking lot. Attendees listened to the program on FM radio station 88.3 in vehicles, stood outdoors and sat in lawn chairs and on blankets on the grass.
During the event, visitors were invited to join the choir in singing traditional carols.  
Animals in a pen included a llama, donkey, goats and geese.
Volunteers handled lighting, parking and a sound board.
The Rev. Rob Douglas, Faith Lutheran pastor, welcomed visitors to open the performance. He said, "Come and experience the birth of Jesus. Imagine what the first Christmas was like through the live nativity."
Before closing the event with a prayer, the Rev. Douglas invited guests to take their own nativity scene pictures after the performance. Traditional post-show refreshments were canceled as a pandemic precaution. 
Faith has suspended In-person worship due to COVID-19 advisories. Services are online via live stream and on-demand. Christmas eve services will be live streamed and on demand at 3, 5 and 11 p.m. Thursday, Dec. 24. Pastor Douglas will deliver a special message. Go to discoveringfaith.com.
Call (630) 862-3500 or email info@discoveringfaith.com for more information.
---
Read more news at XPian News… https://xpian.news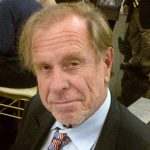 Al Benson is an Aurora-based freelance photo-journalist. He is currently an archives research specialist at Aurora University. His work has appeared in The Voice, The Daily Herald, The Beacon-News, and the Chicago Tribune.