Ceremony at Riverside Cemetery
Montgomery VFW celebrates Veterans Day
MONTGOMERY, Ill., Nov. 14, 2020 — Montgomery Veterans of Foreign Wars Memorial Post 7452 celebrated Veterans Day Saturday, Nov. 14, at Riverside Cemetery.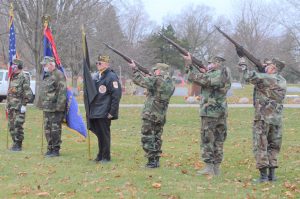 Post Commander Robert Bailey, who led the observance, said the pandemic delayed the annual ceremony from Nov. 11.
Participating with Bailey were Mark Hager, post senior vice commander; Mike Leckinger, junior vice commander; Bryan Guiloy, officer of the day; and Debbie Knopp, post ladies auxiliary.
From Aurora VFW Post 68 were Gary Biro, bugler; and a three-person rifle team.
After the ceremony, VFW Post 7452 hosted a free beef stew luncheon and meat raffles at the post clubhouse.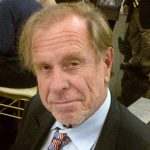 Al Benson is an Aurora-based freelance photo-journalist. He is currently an archives research specialist at Aurora University. His work has appeared in The Voice, The Daily Herald, The Beacon-News, and the Chicago Tribune.