The march, led by communities of faith, went past the lakefront, past...
Chicago celebrates Juneteenth with interfaith march through iconic Grant Park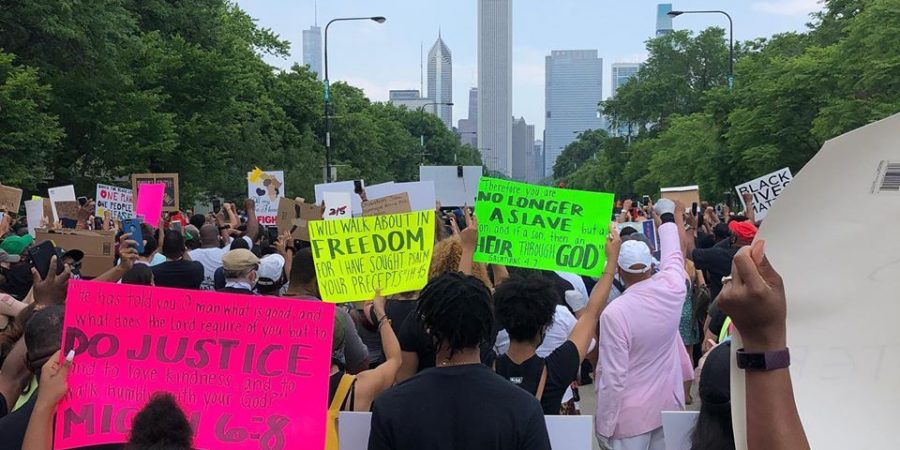 She came with her daughter, 18-year-old Abria Smith, who just graduated high school and is headed to university in the fall.
She came with her mother, 66-year-old Maddie Bogan, who lived through 1968 — a year marked by the assassination of the Rev. Martin Luther King Jr. and the riots that followed — and prayed she'd never see another time like it again.
She came with her church because, she said, her Christian faith teaches her Jesus was an advocate for those who were accused, like the woman accused of adultery and threatened with stoning in the Gospel of John, and was himself unjustly killed.
She came because, Smith said, "with all the unrest that is happening across the country, this is an opportunity for us to come out, make our case heard and make it known that we are not going to stand for any more injustices."
RELATED: 'The church will not be silent': Clergy lead thousands in peaceful protest on Chicago's South Side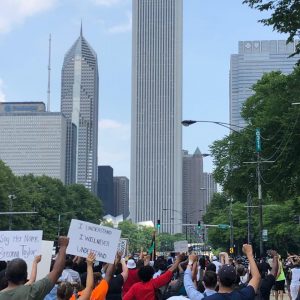 Smith joined thousands of people who came out on Friday afternoon (June 19) for the interfaith march commemorating Juneteenth.
The march, led by communities of faith, went past the lakefront, past Buckingham Fountain, past large digital screens showing prayers by leaders of all faiths from across the Chicago area, and through downtown Chicago's Grant Park, home to some of the city's most iconic landmarks and attractions.
The demonstrators prayed as they marched.
They shouted "too many" in response to a litany of names of Black people who have been killed in recent years while in police custody or because of racism, including Laquan MacDonald, who was fatally shot by Chicago police in 2014.
"Theres's too many Black people dying because of racism," said Pastor Chris Harris of Bright Star Church in Bronzeville, addressing the crowd during the march.
The Juneteenth demonstration was a follow-up to a march earlier this month through the city's Bronzeville neighborhood in remembrance of George Floyd and other Black people whose deaths are linked to police brutality, systemic racism and injustice.
Both demonstrations were organized by Harris, along with partners from Chicago-area houses of worship.
The pastor told Fox 32 Chicago the Lord had given him a vision for the first march on May 29, asking him, "Where is the faith community?" By the following Tuesday, June 2, an estimated 10,000 people of all faiths were marching through the neighborhood nicknamed the "Black Metropolis," according to the pastor.
"The following week, the Lord said the same thing. He said, 'Go bigger,'" according to Harris.
More than 500 interfaith leaders and houses of worship partnered to lead the Juneteenth event, according to Bright Star's website. They included the Baha'i Community of Chicago, the Shambhala Meditation Center of Chicago, Masjid Al-Taqwa, a number of synagogues and a group of churches diverse by every measure.
Harris described the event to the local Fox station as "the city of Chicago's largest 'lunch and learn' so that white Americans and everybody else can chew on truth."
Juneteenth is a contraction of "June" and "nineteenth." The celebration honors the day in 1865 when enslaved Black people in Galveston, Texas, learned they were free — two years after the Emancipation Proclamation took effect in 1863.
The holiday has taken on special significance this year as the death of Floyd, a Black man killed last month when a Minneapolis police officer kneeled on his neck for nearly nine minutes, has led to weeks of protest across the country and a national reckoning over racism.
Friday's march in Chicago ended between the Art Institute of Chicago and the lakefront, with a pause to sing "Lift Every Voice and Sing," known as the Black national anthem, and an hourlong rally that in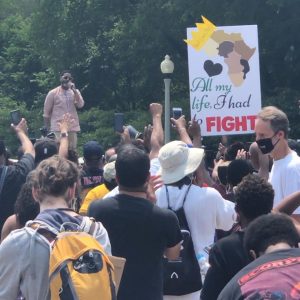 cluded messages and prayers by Christian, Jewish, Muslim and Baha'i leaders from across the city.
After leading a chant of "We can't breathe," the Rev. Otis Moss of Trinity United Church of Christ began the "lunch and learn" with a history lesson.
"From the moment people of African descent landed on these shores they have been fighting to breathe," Moss said.
Even after the Emancipation Proclamation, systemic racism has continued to keep Black people from really being free, he said. Moss traced that racism from slavery through present-day mass incarceration.
"This is not just about the death of Black people. This is about crushing the spirit of Black people. But I'm here to to let you know our spirit has never been crushed. From the moment we landed on these shores, we kept rising up because there's something in us that is stronger than those things outside of us," Moss said.
"I'm here to let you know today we shall breathe."
The Rev. David Swanson of New Community Covenant Church then offered three things white people — particularly his fellow white Christians — can do to respond: Repent, take responsibility and repair.
"As we gather today to remember the long freedom struggle that has been sustained and led by this nation's African American citizens for generations, we must also face a terrible truth: The fight for liberation has been long precisely because white people have so often opposed it," Swanson said.
"Let us be even more precise this afternoon: It has often been white people of faith who have regularly stood against freedom and justice for Black women and Black men."
RELATED: Faith leaders around the country prepare for historic Juneteenth celebrations
Leaders and participants of all faiths pointed to their beliefs as inspiration for marching, for expressing solidarity with the Black community and for speaking out against injustice and oppression.
Alice Dan, director of practice and education at the Shambhala Meditation Center of Chicago, said she has attended a lot of marches in her life. At 78, Dan couldn't walk the length of the Juneteenth march, she said beforehand, but others from the center could.
The center hasn't celebrated Juneteenth in past years, she said, but this year, it made sense.
"Buddhists are anti violence and offer people ways to work with their feelings," Dan said.
Rabbis Lizzi Heydemann of Mishkan Chicago, an inclusive Jewish community in the city, and Karyn Kedar of Congregation B'nai Jehoshua Beth Elohim in suburban Deerfield, Illinois, both pointed to famous quotes from Jewish leaders to express why it was important for them to stand in solidarity with the Black community.
And, Heydemann said, "Honestly, the Jewish story is a story of having been slaves and having been redeemed. We had that experience. It's our job to make sure that everyone who has ever been enslaved or oppressed has the experience of being truly free."
It was 10-year-old Kennedi Smith's first march, standing beforehand with the group from Salem Baptist Church of Chicago, all dressed in red. Salem's pastor, the Rev. James Meeks, was among the organizers of the event.
She came downtown with her grandmother, Brenda Corbin; her 7-year-old cousin, Ayriden Pittman; and a pink sign she'd made herself.
"I am a different color but we are the same," the sign said.
And then in smaller letters, accented with swirls and smiling stick figures: "I am Black and proud."
Kennedi wanted people to know it's not just adults who care, she said. It's kids, too. It's their future.
And seeing so many people at the march made her feel good, too.
"It makes me feel like everybody cares."
---
Read more news at XPian News… https://xpian.news