Barber said more attention needs to be paid to voters in the South and voters who are black and poor...
Activist William Barber II urges blacks in Congress to mobilize poor voters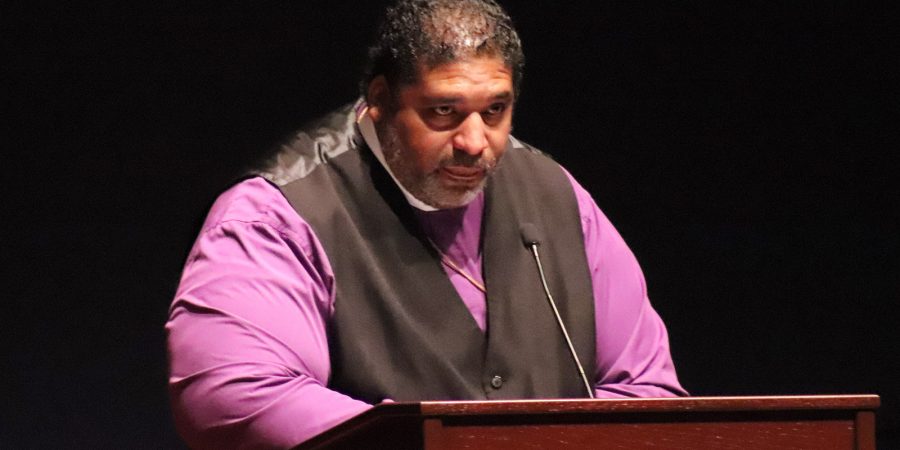 "There's no way we can inspire people to move with the normal politics that doesn't fully address poverty," said Barber, co-chair of the Poor People's Campaign and the keynoter on Tuesday (Feb. 4) at the caucus's National Black Leadership Summit.
"When you can work a full-time job at minimum wage and still not be able to afford a two-bedroom apartment anywhere in this country, that's poor. And if we can't see that and if we don't acknowledge that poverty then we are refusing to call upon these witnesses among us."
Hundreds of politicians, faith leaders, union representatives and others gathered in the Congressional Auditorium of the Capitol Visitor Center to discuss ways of ensuring more people of color are included in the upcoming once-a-decade census and the national elections this year.
RELATED: Rev. William Barber calls on Democrats to host debate on poverty, racism
"This is the state of our union: Every state that is a racist voter suppression state is a red state, and it's also a high poverty state," Barber said, speaking as the results of the Iowa caucuses remained unknown and giving his own analysis of the country hours before President Donald Trump was set to give his State of the Union address.
"If you organize 2 to 10 percent of the poor around an agenda, you can fundamentally shift every election," Barber predicted, citing statistics from a forthcoming study done by his organization.
Barber said more attention needs to be paid to voters in the South and voters who are black and poor, asserting they can help change policies and the political direction of a state.
"If the black caucus and black preachers don't demand that candidates focus on what is impacting 61 percent of black people then we are abdicating our power and our reason for existence," he said.
The Rev. Jesse Jackson, who sat in the front of the auditorium and was called up later in the summit, also addressed voter mobilization, encouraging the summit attendees to consider college students and high school students. "We have the power," the longtime civil right activist predicted, "to register 2 million new voters."
In his speech, Barber also urged moving "from convenience to conscience" and relying less on political consultants.
"They say somebody will accuse you of socialism," he said. "Well, according to some folks' definition of socialism, Jesus was a socialist."
RELATED: Poor People's Campaign rally ends with vows to keep organizing and protesting
Barber brought some of the standing-room-only audience to its feet when he cited "interlocking injustices" such as racism, militarism and ecological devastation and called out "a distorted religious narrative in white evangelicalism that says the only thing God is concerned about is prayer in school, being against gay people, being against a woman's right to choose."
In 2018, Barber helped relaunch the Poor People's Campaign, the last campaign of the Rev. Martin Luther King Jr., who likewise decried the "triple evils" of poverty, racism and militarism. The North Carolina pastor and former state NAACP chair helped lead a gathering of the newer campaign, dubbed "A National Call for Moral Revival," to the National Mall last June and plans another on June 20.
"What America needs right now is an endorsement of ideas, not personality," he added. "The question is not who can beat Trump but who can enliven, expand and inspire the country and the electorate."
---
Read more news at XPian News… https://xpian.news