Finally bridge opens... after many months!
Aurora opens pedestrian-bike bridge over Fox River
AURORA, Ill., June 11, 2021 — Aurora held a grand opening ribbon cutting ceremony Friday, June 11, for RiverEdge Park Pedestrian Bridge in downtown Aurora.
Just north of downtown, the $3 million, 900-foot curved bridge across the Fox River includes lanes for bicyclists and pedestrians. Clayton Muhammad, ceremony emcee and Aurora's chief communications officer, said a public contest will be held to give the bridge a permanent name.
The bridge was part of a $14.3 million Aurora Transportation Center enhancement project that included other work at the downtown train station. It helped the city leverage more than $11 million in federal Congestion Mitigation and Air Quality money for the project because the bridge makes the parking lots on the west bank available for people using the Transportation Center.
Additionally, the city received a $2 million grant from the Kane County Forest Preserve District for the project because it connects the bike trails on both the east and west banks of the river.
---
Read more news at XPian News… https://xpian.news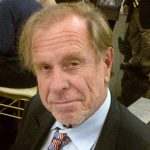 Al Benson is an Aurora-based freelance photo-journalist. He is currently an archives research specialist at Aurora University. His work has appeared in The Voice, The Daily Herald, The Beacon-News, and the Chicago Tribune.