Wheelchair drive continues to the end of October
Aurora church's Wheels for Africa wheelchair drive gains traction
AURORA, Ill.,  Oct. 7, 2020 — On a roll. That's the wheelchair collection drive at First Presbyterian Church in Aurora for disabled Africans in Kenya and Ethiopia.
As of Sunday, Oct. 4, a week into the wheelchair drive, 40 wheelchairs and 40 aluminum walkers filled a truck in the church parking lot.
Donations of chairs and walkers, crutches, canes, wheelchair footrests, seat cushions, new crutch and armpit pads, hand grips and foot tips will be accepted through Oct. 30.
For more information, contact Karen Roberts, church pastor of disabilities, at (630) 844-0050 or email kroberts@firstpresaurora.org.
---
Previous XPian News story on the Wheelchair Drive…COMMUNITY WHEELCHAIR DRIVE — SEPT. 26-OCT. 25, 2020
Read more news at XPian News… https://xpian.news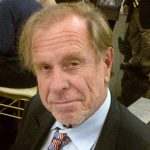 Al Benson is an Aurora-based freelance photo-journalist. He is currently an archives research specialist at Aurora University. His work has appeared in The Voice, The Daily Herald, The Beacon-News, and the Chicago Tribune.