Best-selling author, international speaker, and co-founder of Saddleback Church, Lake Forest, Calif.
Kay Warren, Suicide Prevention Advocate – Live (Oct. 5-6) at Christ Community Church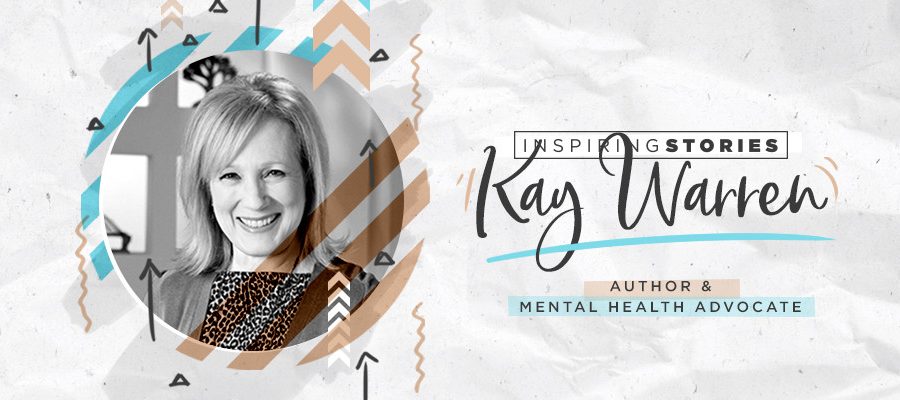 ST. CHARLES, Ill. – Christ Community Church invites the public to a special Inspiring Stories Weekend (October 5 and 6) with Speaker Kay Warren, best-selling author, international speaker, and co-founder of Saddleback Church. Kay is a passionate mental health advocate and a board member of the National Action Alliance for Suicide Prevention.
In April of 2013, the Warren family suffered the loss of their youngest son Matthew to suicide. Through her grief, Kay has become a tireless advocate for those living with mental illness. Drawing on her 40 years of ministry and personal experiences, Kay's message to the faith community is to "eliminate stigma, shame, and fear to create warm and accepting places for those who suffer."
Kay challenges people to respond to mental illness with support, understanding, and action. In her best-selling book, Choose Joy: Because Happiness Isn't Enough, she shares how painful experiences have shaped her conviction that joy is a choice and within reach for everyone no matter how dark or desperate the circumstance.
Her story of joy in hardship will be shared live on Saturday October 5 at 5 pm and Sunday October 6 at 9 and 11 am at Christ Community's St. Charles Campus, located at the northwest corner of Randall Road and Bolcum Road. Saturday's event will feature the interview and live music, While the Sunday services will be normal worship services.
The interview will also be shown via livestream at Christ Community's Aurora, DeKalb, and Streamwood Campuses during their regular weekend services. There is no charge or ticket required to attend any of the services. All are welcome.
The church is passionate about loving God and loving people. Our mission is to make passionate disciples of Jesus Christ who are belonging, growing, serving, and reaching.
Christ Community Church started in 1984 as a group of six couples who met regularly for Bible study. Now, over 5,000 weekend attendees meet on four campuses in the western suburbs of Chicago: the Aurora Campus, the Streamwood Campus, the DeKalb Campus, and our original campus in St. Charles.
---
Read more news at XPian News at… https://xpian.news