Annual event in Phillips Park - Aurora
Motorcycle Sunday Tomorrow May 6 in Aurora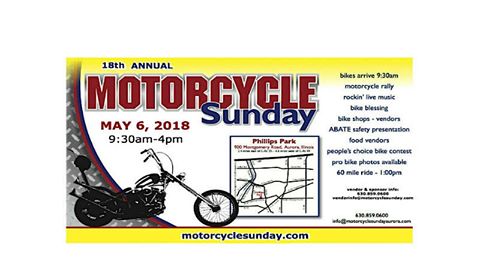 Motorcycle Sunday (May 6) is a FREE annual one-day motorcycle rally. 2018 is the 18th anniversary of MCS – and it's gonna be awesome – especially if YOU are there.
Motorcycle Sunday has become a yearly destination for many motorcycle enthusiasts from all over the mid-west.
Motorcycle Sunday is held at Phillips Park, 900 Montgomery Rd. in Aurora, IL.
Motorcycle Sunday is a motorcycle rally, bike blessing, live concert, 60 mile ride – and more! There are bike shops, dealers, & vendors, food vendors, people's choice bike contest, pro bikes photos available.
This is a family-friendly event. Admission is FREE! All types of bikes and riders are welcome!
You can check out photos from past years at www.motorcyclesunday.com