"He was faithful and went around telling his story about faith and God's work in his life."
Ex-Geneva athlete goes to Tokyo Olympics
GENEVA, Ill., July 23, 2021–A U.S.A. competitor in the Tokyo Olympic triathlon will be a familiar face to Fox Valley United Methodists.
Kevin McDowell was in Geneva High School when he started attending Aurora's Flowing Forth United Methodist Church, said his former pastor and now UMC Prairie Central District Superintendent, the Rev. Jeffry Bross. McDowell, 28, also has a story of triumph over cancer.
McDowell competes in the men's individual race July 26 and the mixed relay July 31. He turns 29 on Aug. 1.
Rev. Bross said, "He came on his own to church as a high school kid and at the time was the number one rated triathlete in the world. He was faithful and went around telling his story about faith and God's work in his life. His family followed him and started coming to Flowing Forth, so he evangelized."
The McDowell family later moved to Colorado Springs where Kevin attended college, but Bross says Kevin often visits when he's back home.
A cancer diagnosis 10 years ago nearly sidelined the triathlete, who has won numerous medals and was named USA Triathlon Junior Athlete of the Year in 2009 and 2010.
"I remember asking the doctors 'am I going to live and what's the prognosis?'" McDowell shared in a video feature of Tokyo Athletes. "When I learned it was Hodgkin's lymphoma, we had a little celebration because it's one of the most curable cancers."
Despite the difficult chemotherapy treatments that were taking a toll on his body, McDowell fought back and continued to train with support from his family, church connections, and a cancer charity called Cal's Angels, which grants wishes, raises awareness, and funds research to help kids fighting cancer.
His Olympic dream that he's had since age 11 finally came true when he was selected by USA Triathlon to compete in this summer's games.
"Tears came down instantly. I was shaking and it was a wave of emotion," McDowell said in the feature about the call to be on the team.
"The goal is not just to go to the Olympic games, but to truly compete and be in the running for the highest position individually. But I think we also have a special opportunity with the mixed team relay. We are going there with our eyes set on gold."
Bross said McDowell will be one to watch as he's in medal contention. "He's a cancer survivor but more than that he's a believer," said Bross. "He's an amazing young man and I'm excited to see him bring home the gold!"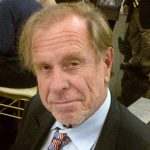 Al Benson is an Aurora-based freelance photo-journalist. He is currently an archives research specialist at Aurora University. His work has appeared in The Voice, The Daily Herald, The Beacon-News, and the Chicago Tribune.