Judson alumnus Mark Vargas, a business and political consultant who hosts a local conservative talk show on WIND-AM 560, interviewed Howard...
Actor Terrence Howard gets high marks at Judson University's World Leaders Forum in Elgin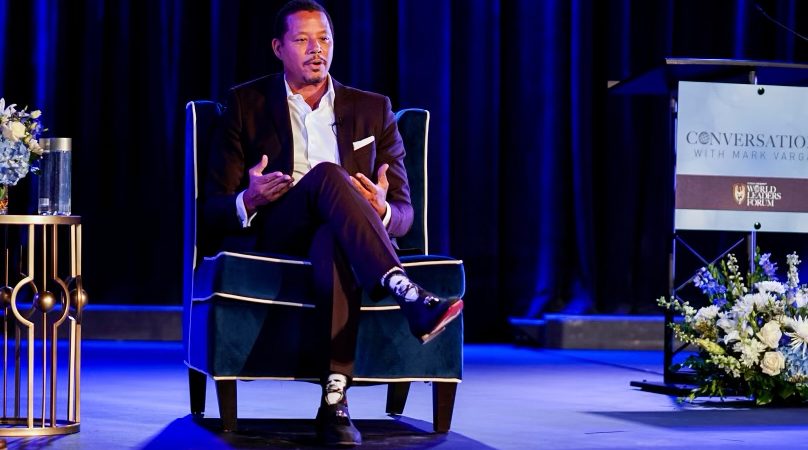 By Tom Siebert
ELGIN, Ill., July 10, 2021 — Terrence Howard has a star on the Hollywood Walk of Fame, having appeared in 52 movies and 25 television shows.
But the acclaimed actor told a Judson University audience on Friday that he would rather be known for reaching the real stars, through his newly developed drone technology that could improve border security, curb upper-atmosphere pollution, and even connect with space aliens.
"We plan to take it to the asteroid belt between Mars and Jupiter," said the 52-year-old Chicago native at the university's tenth annual World Leaders Forum in Elgin.
Judson alumnus Mark Vargas, a business and political consultant who hosts a local conservative talk show on WIND-AM 560, interviewed Howard on stage at Judson's Herrick Chapel before about 200 students, faculty, and members of the community.
Vargas kicked off the conversation by asking Howard what it felt like to be among the 2,690 entertainers whose names are emblazoned on the five-pointed terrazzo and brass stars, along the 15-block Walk of Fame on Hollywood Boulevard and Vine Street in Los Angeles.
"It humbled me that people who may not even know who I am will someday walk over my name and wonder who is this person that my mother and father made," said Howard, who starred for six years as hip-hop mogul Lucious Lyon in the popular TV series "Empire."
He grew up in Cleveland and studied electrical, chemical, and civil engineering at the prestigious Pratt Institute in Brooklyn.
"I was bouncing back and forth between these majors, trying to figure out how things worked," Howard recollected. "I couldn't find the answer so I left school and became an actor."
One of his first major film roles was in 1995's "Dead Presidents," as the memorable character Cowboy, an anti-war friend of a returning Vietnam veteran.
Howard, who has since been nominated for 56 acting awards and has won 34 of them, said he discovered a truth about his craft when fellow "Dead Presidents" cast member Laurence Fishburne told him that he had known someone just like Cowboy.
"That touched me to know that I could affect someone's emotions in that way and it was freeing," said Howard, who was later nominated for both a Golden Globe and Academy Award for his riveting role as a pimp turned rapper in 2005's "Hustle and Flow."
But the father of five, whose wife Mira also attended the event, said his acting career will be only a "footnote" if his new drone technology takes off, with the help of partner Vargas and former Illinois Gov. Rod Blagojevich, who will head an advisory board on the project and was in the Judson audience.
"I know a lot of people at the Defense Department who are fascinated by this," said Vargas, who served in the administrations of presidents George W. Bush and Barack Obama, working to rebuild the economy of war-ravaged Iraq.
The newly invented drone, called the "Lynchpin," was later launched in a demonstration on the scenic campus grounds by Kevin Plaizier, a junior from Utah State University.
Plaizer, who won an international competition to develop the drone using Howard's designs, showed off its ability to not only hover but turn upside down, similar to the spaceship in the 1977 classic film "Close Encounters of the Third Kind."
Howard has many commercial, science, and computer patents pending, and he envisions his unmanned aerial vehicle (UAV) as being used to decrease pollution, improve agricultural crops, and perhaps even determine the source of life.
"If I'm successful, there will never be a need for my obituary," he said metaphysically.
Proceeds from Friday's event will fund entrepreneurship, diversity programs, and RISE scholarships for developmentally challenged students at Judson.
Previous speakers at the school's World Leaders Forum were former President George W. Bush; ex-Secretary of State Condoleeza Rice; former Soviet Union leader Mikhail Gorbachev; ex-British Prime Minister Tony Blair; and former Mexican President Felipe Calderón.
Other keynoters were Her Majesty Queen Noor of Jordan; Dallas Mavericks owner and "Shark Tank" host Mark Cuban; author, attorney, and diplomat Caroline Kennedy; and jointly, former U.S. Speaker of the House Newt Gingrich and ex-Vermont Gov. Howard Dean.
Located in northwest suburban Elgin since 1963, Judson University offers a Christian, liberal arts and sciences education through its Bachelor of Arts degrees for more than 60 majors, minors, graduate, and online programs, as well as certification and accelerated adult degrees. For more information, visit www.JudsonU.edu.
Some students interviewed at the World Leaders Forum thought that Howard's lofty objectives for the betterment of the world were not just pie-in-the-sky aspirations.
"It was mind-blowing," said P.J. NKalang'ango, a junior from Tanzania majoring in architecture. "He is a genius and not only as an actor."
Abigail Belsan, a sophomore from southwest suburban Lemont and also an architecture major, agreed, calling Howard "one of the most unique individuals I've ever seen."
Asked whether the actor's search for the meaning of life may differ from the teachings of the Christian college, Belsan replied, "People can have a different interpretation of the gospel."
---
Read more news at XPian News… https://xpian.news