Distributed were peanut butter, jelly, cereal, oranges, skillet meals...
Aurora food pantry debuts drive-thru Kids' Pop-Up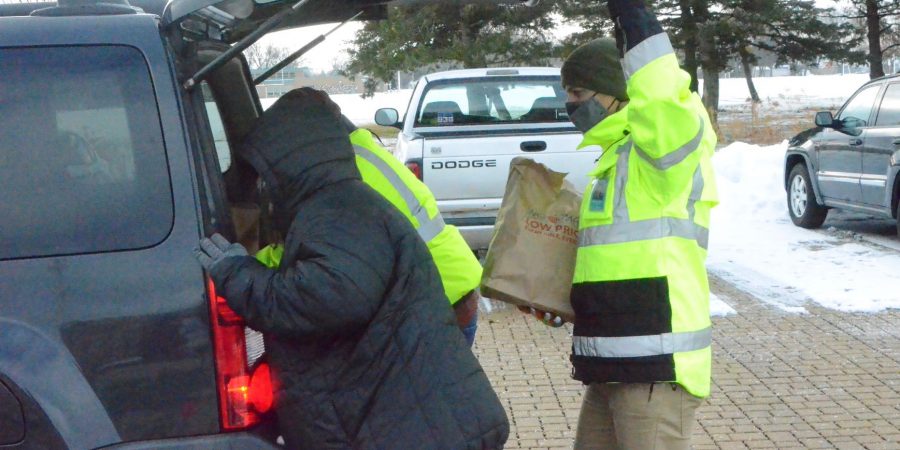 AURORA, Ill., Jan. 17, 2021 — About 130 drivers were served Saturday, Jan. 16, at the Aurora Area Interfaith Food Pantry's first drive-thru Kids' Pop-Up food distribution.
Free to the public, the event was held from 10 a.m. to noon at Simmons Park on Aurora's far East side. Partners with the food pantry were Calvary Church of Naperville and Fox Valley Park District. About 25 vehicles were lined up when the pantry opened at 10 a.m.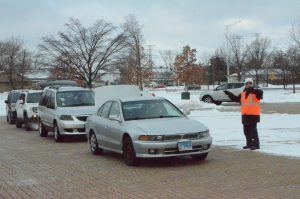 Rebecca "Becky" Dunnigan, pantry community outreach and program coordinator, organized the pop-up. Rev. Kyle Dern, Calvary outreach pastor, shoveled snow and drove a church truck. Other volunteers included pantry personnel and Calvary congregants who loaded bags and boxes into a double line of  patrons' vehicles.
Distributed were peanut butter, jelly, cereal, oranges, skillet meals, pancake mix, syrup, Pop Tarts, applesauce, canned fruit, juice boxes and hand sanitizer.
Dunnigan said the pop-up was designed to serve children. Future events, to be held monthly, may add school supplies for remote and in-person learning, shampoo, soaps, toothpaste, toothbrushes, socks, mittens, hats, scarfs, game, costumed characters and dental exams on site.
Aurora and Chicago media covered the event. Eddie Galvan, pantry program director, was interviewed onsite at 7:35 a.m. for a live broadcast by Fox 32 News. At 10 a.m., Dunnigan taped an interview that aired on WGN-TV Channel 9's newscast at 9 p.m.
Future pop-ups will be announced. Call (630) 692-3061, e-mail RDunnigan@aurorafood pantry.org, or visit aurorafoodpantry.org for more information.
---
Read more news at XPian News… https://xpian.news