[Karen] Roberts said a truck will be parked at the church, 325 E Downer Place in Aurora, through Oct. 25 to receive donations of used manual wheelchairs...
Aurora Church helps get wheelchairs to disabled Africans
AURORA, Ill., Sept. 28, 2020 — Michael Panther brought his Wheels for Africa project to First Presbyterian Church in Aurora Sunday, Sept. 27.
Panther, an immigrant from South Sudan, is on a mission to send wheelchairs and accessory gear to handicapped people in Kenya and Ethiopia.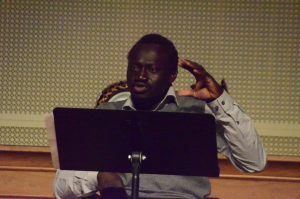 During a 4 p.m. worship service at First Presbyterian, the Highland, Ind. resident showed a promotional video and addressed the congregation about Living with Hope, a nonprofit he founded. Karen Roberts, church pastor of disabilities, and her husband Dale, Sugar Grove residents, reflected on a March 7-18 tour to Kenya to view medical facilities.
Roberts said a truck will be parked at the church, 325 E Downer Place in Aurora, through Oct. 25 to receive donations of used manual wheelchairs, aluminum walkers, crutches, canes, wheelchair footrests, seat cushions, new crutch and armpit pads, hand grips and foot tips.
Once gathered, wheelchairs and other equipment will be refurbished through an arrangement with U.S. prison ministries in Kansas, Tennessee and other states before being hand-delivered to people with mobility needs in Kenya and Ethiopia by Living with Hope partners and CURE Hospitals (https://cure.org/hospitals/). Wheelchair recipients are properly fitted by a team that includes physical therapists, occupational therapists, medical personnel and mechanics.
The church collection is a partnership with Living with Hope (https://livingwithhope.net/) and Joni and Friends (https://www.joniandfriends.org/ministries/wheels-for-the-world/).
According to Karen Roberts, if donors cannot deliver contributions to the church volunteers will pick up donations through Oct. 25 and later. Call (630) 844-0050 or email kroberts@firstpresaurora.org to arrange pickups or for more information.
Roberts added, "In Africa, about 85 million people live with disabilities. An estimated 35 million people who require wheelchairs do not have access to them simply because they are the poorest of the poor.
"Because of their lack of mobility, people with disabilities face exclusion from schools, workplaces and even from their own communities. A gift of a wheelchair brings new life and hope to them.
"They do not have to crawl anymore, but instead, have dignity and opportunities to go to school and work. Contributors can help lift a person with disability out of the dirt by donating a wheelchair," Roberts said.
---
Read more news at XPian News… https://xpian.news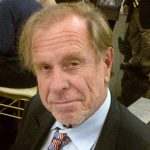 Al Benson is an Aurora-based freelance photo-journalist. He is currently an archives research specialist at Aurora University. His work has appeared in The Voice, The Daily Herald, The Beacon-News, and the Chicago Tribune.