An anonymous Habitat supporter donated the restored classic car to benefit the Christian affordable-housing ministry...
St. Charles man, Habitat winners at ReStore opening
AURORA, Ill., Sept. 26, 2020 — A St. Charles resident and Fox Valley Habitat for Humanity were winners Friday, Sept. 25.
Rick Thomas, owner of United Structural Systems of Hoffman Estates, won a restored 1967 Chevrolet Camaro at Habitat's west Aurora ReStore grand opening. Aurora Deputy Mayor Chuck Nelson drew Thomas' winning raffle ticket. Tickets were $100.
Thomas said he decided to attend the celebration at the suggestion of his father, who read about the Camaro in a local newspaper.
An anonymous Habitat supporter donated the restored classic car to benefit the Christian affordable-housing ministry said Barb Zegiel, Habitat funds coordinator.
According to Thomas, his geotechnical contracting firm, has helped with foundation work for three Habitat homes.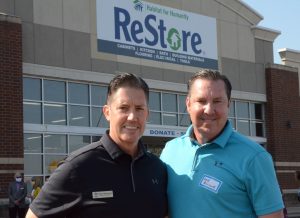 Habitat came up a winner with a $175,000 donation from Steven and Dave McCormick for a 2021 Habitat project in Batavia. The brothers are president and vice president, respectively, of Centennial Mortgage in Aurora.
Steven McCormick, Habitat board chair, introduced the future Batavia homeowner, Janice Owino of Aurora, who will occupy the house with her husband George.
Rev. Jeff Barrett, Habitat CEO and executive director, announced the ReStore's opening has been delayed for two to three weeks.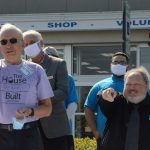 Special guests were Naperville residents Rev. Duane Mevis, a retired Methodist minister and his wife Cheryl. The couple co-founded Fox Valley Habitat in Aurora in 1989. Rev. Mevis said they were inspired to form a local Habitat chapter after walking 100 miles in North Carolina with Millard Fuller, Habitat International founder.
Jessica Linder Gallo, Aurora Regional Chamber of Commerce, emceed the outdoor program on the ReStore's parking lot.
In addition to Nelson and Rev. Mevis, guest speakers were Sherman Jenkins, Aurora alderman-at-large and board chair, Quad County African American Chamber of Commerce; Sarah Chacon, ReStore assistant manager; Mark Knox, Habitat board member and treasurer; Steven McCormick, Habitat board chair; Karina Garcia, Aurora Regional Hispanic Chamber of Commerce; and State Rep. Barbara Hernandez, D-Aurora.A ceremonial ribbon cutting by guests and ReStore staff and families concluded the celebration.
About Fox Valley Habitat
Founded in 1988 in Aurora, Fox Valley Habitat is based at Genesis Community Church in Montgomery. A Habitat warehouse is at 250 S. Highland Ave. in Aurora. Current projects are two homes underway on Aurora's East side by Habitat volunteers
The non-denominational Christian housing ministry partners with people in need to deliver affordable shelter. More than 200 residents of Aurora, North Aurora and Montgomery have been served through 62 new or upgraded homes.
Volunteers and donations of funds and materials are needed to continue the ministry. Call (630) 206-5038 for more information.
---
Read more news at XPian News… https://xpian.news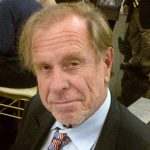 Al Benson is an Aurora-based freelance photo-journalist. He is currently an archives research specialist at Aurora University. His work has appeared in The Voice, The Daily Herald, The Beacon-News, and the Chicago Tribune.