Rev. Gavin stressed "...the actual church, the people, will worship in the Peace House next door."
Old Aurora church bell's last toll; Retirement begins building's sale, deconsecration process
AURORA, Ill., Aug. 28, 2020 — An old Aurora church bell is silent.
After a final tolling Wednesday, Aug. 26, the 129-year-old, 5,000-pound brass bell and wooden wheel were removed Thursday, Aug. 27, from a steeple tower at St. John United Church of Christ on Aurora's near East Side.
Andy Wolf of B.J. Wolf and Sons  Construction Co. in Aurora, whose workers removed the bell with industrial erection equipment in a two-hour operation, pulled on a rope for the last ring.
Rev. Cyndi Gavin of Naperville, 14-year church pastor, said the bell's retirement began a deconsecrating of church properties due to an upcoming sale of the building. According to Rev. Gavin, the structure at 309 Fifth St. in Aurora, will be sold to nonprofit The Salt and Light Foundation of Darien for the work of Chicago-based Not Forgotten Ministries. The new ministry specializes in counseling families, feeding the hungry, doing toy, book and school backpack drives, job placement assistance, senior outreach, single mom outreach, and street ministry.
In a Thursday social media post announcing the bell's retirement, Rev. Gavin stressed "…the actual church, the people, will worship in the Peace House next door." Peace House, the former church parsonage, is at 301 Fifth St.
The pastor added, "I'll write again about our new neighbors who will join us in October to partner in serving the community. For now please send your dearest thoughts, prayers and light." She was accompanied at the bell removal by Brinton Anderson of Naperville, church moderator(president) and Peg Lentz of Aurora.
After construction workers lowered the bell to the sidewalk, Rev. Gavin held a litany of deconsecration. She said, "Today, we deconsecrate this bell, which has been removed by these workers, and will leave this neighborhood a few minutes after this liturgy.
"The bell rang for the community and the people of this 133 year-old household of faith since it was installed and blessed in 1891. It is fitting, therefore, as it leaves the bell tower, it's home for 129 years, that we lift up our hearts in thanksgiving.
"On behalf of the Fox Valley Association of the Illinois Conference of the United Church of Christ, I declare that this bell, having been dedicated for the regular worship of St. John's United Church of Christ, is now commended to the mission and message of the community of Aurora, IL."
Passersby included Rigo Castillo of Plainfield, a former Auroran who said he witnessed a bell removal for repair from a Roman Catholic church in San Luis Potosi, Mexico when he was eight years old.
Workers transported the bell to local storage for possible display.
According to the pastor's social media post, the bell was purchased for installation in the bell tower by late Aurora laymen Christ Armbruster and George Paul in 1891, four years after the building was constructed.
An inscription on the bell reads, "Cast by H. Stuckstede & Company, St. Louis MO, Ev. St. Johannis Gemeinde (Evangelical St. John Congregation), Aurora Ills, 1891." St. John UCC women, men and children rang the church bell 125 times on the morning of the church's 125th anniversary service in 2011.
Thirteen stained-glass windows and other items may also be deconsecrated, or secularized, Rev. Gavin added. Deconsecration is the act of removing a religious blessing from something that had been previously consecrated by a minister or priest of that religion. The practice is usually performed on churches to be rendered to non-religious (secular) use or demolished.
Founded by German immigrants as German Evangelical St. John's Church, a cornerstone-laying ceremony was held Aug. 28, 1887. The church was dedicated Nov. 20, 1987. The Nov. 23, 1887, Beacon News reported, "The new church is a neat, unpretentious, brick edifice, costing in the vicinity of $5000."
---
Read more news at XPian News… https://xpian.news
Sunday (Sept. 6, 2020) Denise Crosby column in The Beacon- News… After historic Aurora church sold, congregation moves next door to continue outreach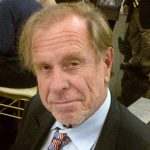 Al Benson is an Aurora-based freelance photo-journalist. He is currently an archives research specialist at Aurora University. His work has appeared in The Voice, The Daily Herald, The Beacon-News, and the Chicago Tribune.