Aurora-area residents collected the carload of supplies to aid Iowans devastated by the Aug. 10 derecho storm.
Aurora-area residents aid Iowans devastated by storm
AURORA, Ill., Aug. 20, 2020—It was a bittersweet homecoming for Amy Conyers.
Friends and family of Conyers, a former Auroran now of Cedar Rapids, Iowa, gathered on Sunday, Aug. 16, at the Aurora home of her mother, Marcia Jackson, to load Amy's car with supplies bound for Cedar Rapids. Aurora-area residents collected the carload of supplies to aid Iowans devastated by the Aug. 10 derecho storm.
Conyers, 45, is a 1993 West Aurora High School graduate. She serves as a transition, attendance and magnet specialist at Johnson STEAM Academy in Cedar Rapids. She was accompanied on the 400-mile roundtrip drive by her daughter, Katie, 16.
The Conyers' home suffered minor damage when a tree limb fell on it. The Conyers family attends Lovely Lane United Methodist Church in Cedar Rapids.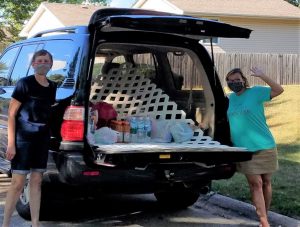 Aurora-area donors contributed bottled water, Gatorade, peanut butter, toothpaste, toothbrushes, bar and liquid soap, hand sanitizer, plastic garbage bags, shampoo, snack crackers and a section of fencing.
Contributors included Marcia Jackson and Jean Benson, Aurora, a congregant at Flowing Forth UMC, Aurora; Jen Lauermann, Lisle, a West Aurora classmate of Amy; Erich Franks, Oswego; Stacey Maffit, Warrenville; Julie Polz, Rochelle; and Kelly Grigoropouls, Lombard.
Derecho background:
Iowans reach out after derecho
DES MOINES, Iowa (United Methodist Communications, Aug. 19, 2020)— Iowa United Methodists are providing relief to communities devastated by an Aug. 10 derecho. The storm devastated more than 150 communities in Iowa.
United Methodist Iowa Conference chainsaw teams were working since day one and will continue as necessary. In addition, chainsaw crews from other conferences are responding. The UMC Iowa Conference also offers other ways people can help, especially by giving financially.
Gov. Kim Reynolds has issued Disaster Declarations for 25 counties.
---
Read more news at XPian News… https://xpian.news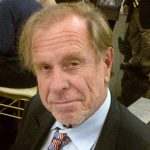 Al Benson is an Aurora-based freelance photo-journalist. He is currently an archives research specialist at Aurora University. His work has appeared in The Voice, The Daily Herald, The Beacon-News, and the Chicago Tribune.