Fox Knoll is part of St. Louis, Mo.-based, Ascension.
Aurora retirement home salutes staff 'heroes'
AURORA, Ill., March 30, 2020 — Presence Fox Knoll/Ascension Living retirement community, 421 N. Lake St. in Aurora, celebrated staff members Monday (today) with a "Heroes Work Here" sign on the front lawn.
Fox Knoll is part of St. Louis, Mo.-based Ascension, a leading U.S. nonprofit and Catholic healthcare system operating more than 2,600 sites of care – including 150 hospitals and more than 50 senior-living facilities – in 20 states and the District of Columbia.
During the coronavirus stay-in-place order, Fox Knoll's 118 residents keep busy with hallway bingo games, visits with relatives and friends via Skype and Facetime and other activities.
---
Read more news at XPian News… https://xpian.news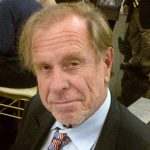 Al Benson is an Aurora-based freelance photo-journalist. He is currently an archives research specialist at Aurora University. His work has appeared in The Voice, The Daily Herald, The Beacon-News, and the Chicago Tribune.