Honored at an eighth annual Champions for Justice dinner...
Methodists present Champion for Justice awards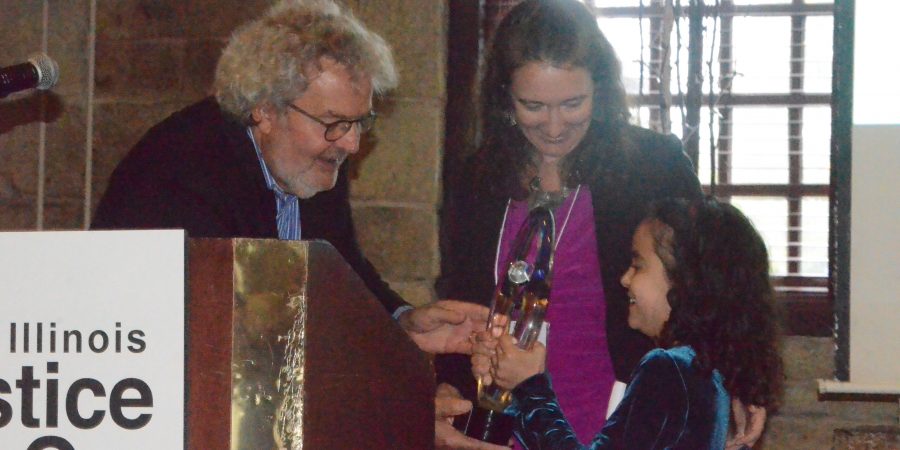 AURORA, Ill., Oct. 10, 2019—A United Methodist pastor and a state representative were presented with 2019 Champion for Justice awards from Northern Illinois Justice For Our Neighbors (NIJFON) , a Methodist immigration legal services ministry.
Honored at an eighth annual Champions for Justice dinner at Two Brothers Roundhouse in Aurora Sept. 29 were Rev. Paula Cripps-Vallejo, pastor, Humboldt Park United Methodist Church, Chicago; and State Rep. Delia Ramirez (4th District).
The award recognizes recognizes individuals who have not only made significant contributions in their professional fields but also to NIJFON's mission and vision.
Rev. Harry Nicol, NIJFON board chair, presented Rev. Cripps-Vallejo's award. Claudia Marchan, executive director, presented Rep. Ramirez' award.
Rev. Nicol and Marchan opened the program with welcoming remarks. Other speakers were Mazen Ataya, a Syrian immigrant; keyote speaker Rev. Christian Coon, who explored explored "Connecting our Faith to the Story of JFON"; and Brian Straw, Esq., who co-presented a call to action with Marchan.
A silent auction was held to beneft NIJFON. Rev. Cripps-Vallejo closed the event with a sending forth.
Rev. Paula Cripps-Vallejo is an Ordained Elder in the United Methodist Church. She has served as the Lead Pastor of Humboldt Park United Methodist Church, a majority Latinx congregation, since June 2014. She is passionate about sharing the good news of Jesus Christ in ways that transform hearts and lives and also transforms our broken and hurting world.
She served on the Board of Directors for Northern Illinois Justice for Our Neighbors (JFON), including being the Chairperson from June 2013 to December 2016. She is deeply passionate about JFON's vision to create a world immigrants, refugees and all asylum seekers are welcomed, supported and able to live without fear. She is on the Immigration Task Force of the Logan Square Neighborhood Association, leader in the Logan Square Ecumenical Alliance, and, Chair of Faith-Based CAPS group for the Chicago 14th District Police Department.
Delia Ramirez represents the 4th District, Illinois House of Representatives, which includes the Chicago neighborhoods of East Humboldt Park, Hermosa, Bucktown, West Town, Ukrainian Village, East Village, and Logan Square.
The daughter of Guatemalan immigrants, she is an accomplished social service director, community leader and coalition builder who has dedicated much of her life and career to the Humboldt Park and Logan Square communities. She has worked closely with JFON through her work at the Humboldt Park United Methodist Church where she helped to co-found the Chicago clinic.
---
Read more on immigration at XPians News… https://xpian.news/category/immigration/