During the colder months of the calendar, 630 volunteers are needed to operate seven temporary shelter sites...
PADS of Kendall County facing challenges recruiting volunteers as shelter season looms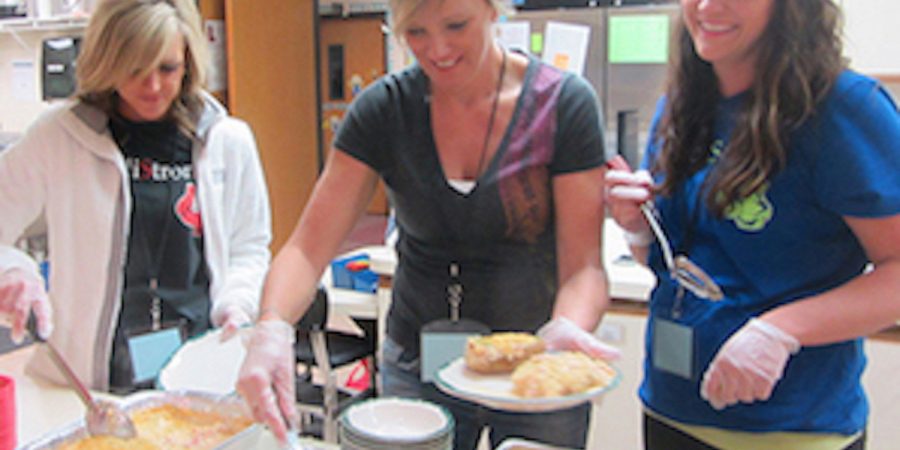 By Tom Siebert
YORKVILLE, Ill., Sept. 20, 2019 — Famed psychiatrist Karl Menninger was once asked what his prescription was for someone who felt they were about to experience a nervous breakdown. 
"Lock up your house, go across the railroad tracks, find someone in need, and do something for them," Dr. Menninger replied.
Well, that's what Kendall County PADS volunteers have been doing since the fall of 2010, when the nonprofit support group began providing nutritious meals, safe overnight housing, and much-needed social services to the area's homeless community.
During the colder months of the calendar, 630 volunteers are needed to operate seven temporary shelter sites, each of them open for one overnight of the week from mid-October to mid-April. Most volunteers serve one or two times each month for four and a half hours. Some of the site coordinators serve every week.
Kendall County PADS usually retains about 75 percent of its volunteers each shelter season, leaving an annual need of 150 new recruits. But the number of returning volunteers is down this year.
"Just one month prior to our scheduled opening, we need about 150 men and women to serve as volunteers this season" said Anne Engelhardt, executive director of Kendall County PADS. "It seems to be more challenging to find people with the hearts for volunteer service of this type."
In order to address its current shortage of volunteers, Kendall County PADS lowered lowering its age requirement from 18 to 17 as well as expanded its recruitment pool to include those needing to complete court-ordered community service hours.
Additionally, a volunteer recruitment team has been plastering social media with inspirational PADS posts; handing out brochures to local businesses; reaching out to churches, civic organizations, senior communities, and emergency/medical personnel; and keeping a database of all volunteers so they can be called on to meet emergency staffing needs at any of the sites.
Anyone interested in helping their homeless neighbors is invited to attend a new-volunteers training session from 6 p.m. until 8 p.m. on Thursday, October 3, at the Kendall County Health Department, 811 John Street, Yorkville.
A special invitation is extended to churches, public libraries, local businesses, PADS volunteers, the Caring Hands Thrift Store in Yorkville, and police departments, in addition to the county sheriff's office, health department, and food pantry.
The two-hour training session will include an overview of PADS––how it operates each night and the integral role of volunteers. Attendees also will learn general operational procedures, how to address health issues, and the importance of kindness to the men, women, and children who come to the shelters.
New recruits will also receive a volunteer manual and be assigned to an experienced shelter coordinator who will serve as a mentor to them. The hope is that each person attending will be informed and feel comfortable with their role in Kendall County PADS, should they be inspired to serve.
The session is free, refreshments will be served, and there is no commitment obligation.
First-time volunteers, however, are strongly encouraged to attend the training, which will also feature representatives of the Guest Assistance Program offered by social work interns from Aurora University. The GAP helps homeless guests with employment, personal issues, and permanent housing.
The shelters are scheduled to be open one overnight per week from 7 p.m. until 7 a.m. starting on October 20 and ending on April 18, 2020. The nights and sites are as follows:
Sundays: Cross Lutheran Church, 8609 Route 47, Yorkville
Mondays: Yorkville Congregational United Church of Christ, 409 Center Parkway, Yorkville
Tuesdays: Harvest New Beginnings church, 5315 Douglas Road, Oswego
Wednesdays: Parkview Christian Academy, north campus, 202 East Countryside Parkway, Yorkville
Thursdays: Trinity United Methodist Church, 2505 Boomer Lane, Yorkville
Fridays: Church of the Good Shepherd, 5 West Washington Street, Oswego
Saturdays: St. Luke's Lutheran Church, 53 Fernwood Road, Montgomery
During the past nine shelter seasons, Kendall County PADS has served a total of 474 homeless guests, provided 11,006 overnight stays, and served 33,325 meals including breakfasts, lunches, and dinners.
PADS of Kendall County is a 501(c)(3) not-for-profit group funded by gifts and grants as well as donations from individuals, organizations, and businesses. Those who wish to donate, volunteer, or learn more about helping the homeless may call (630) 334-8180 or visit the website at kendallcountypads.org.
Tom Siebert is assistant director for community relations at Public Action to Deliver Shelter (PADS) of Kendall County
---
Read other articles from Tom Siebert at… https://xpian.news/?s=Tom+Siebert&submit=Search…