Local Northern Illinois Conference churches and ministries offered prayers and vigils.
Methodists pray for the Henry Pratt shooting victims
AURORA, Ill., Feb. 21, 2019–After the shooting at the Henry Pratt manufacturing facility in Aurora, Ill., local Northern Illinois Conference churches and ministries offered prayers and vigils. Five people were killed and five police officers along with one worker were injured when an employee opened fire inside the facility after he was reportedly terminated.
At the Northern Illinois University (NIU) Wesley Foundation's weekly Hungry Huskies community dinner on Saturday evening, students lit candles, wrote notes, and prayed for one of their fellow students who was killed in the rampage. Trevor Wehner, 21, was a human resources intern who was on his first day on the job last Friday when he was shot by the gunman. He planned to graduate NIU in May.
The Rev. Rosa Lee, NIU Wesley Foundation Campus Minister, said they held the vigil because they wanted to support Trevor's family as well as acknowledge the loss of one of their own Huskies. "As a community, we came to support each other while grieving together," said Lee.
The news of Trevor's death came one day after the 11th anniversary of the horrific Valentine's Day NIU campus shooting where five students were killed in a lecture hall. "This year was the first year there was no official anniversary ceremony except a siren at 3:06 to remember those who lost their lives," said Rev. Lee. "We will remember Trevor as one of the Huskies' Angels who made their way home to heaven too early."
Despite the bad weather that night, about 80 students came out to the vigil which included a short moment of prayer led by students reading interfaith prayers representing the group's diverse backgrounds.
"We prayed for God's comfort and peace, God's healing for our soul in this difficult season, courage to let our anger and fear go away from this massive gun violence," said Rev. Lee. "We prayed for God to grant us comfort as we grieve a loss of Trevor Wehner. We prayed for God to grant comfort to his family who is having the most challenging time and for God's peace to cover his friends as we think of good and joyful memories of him."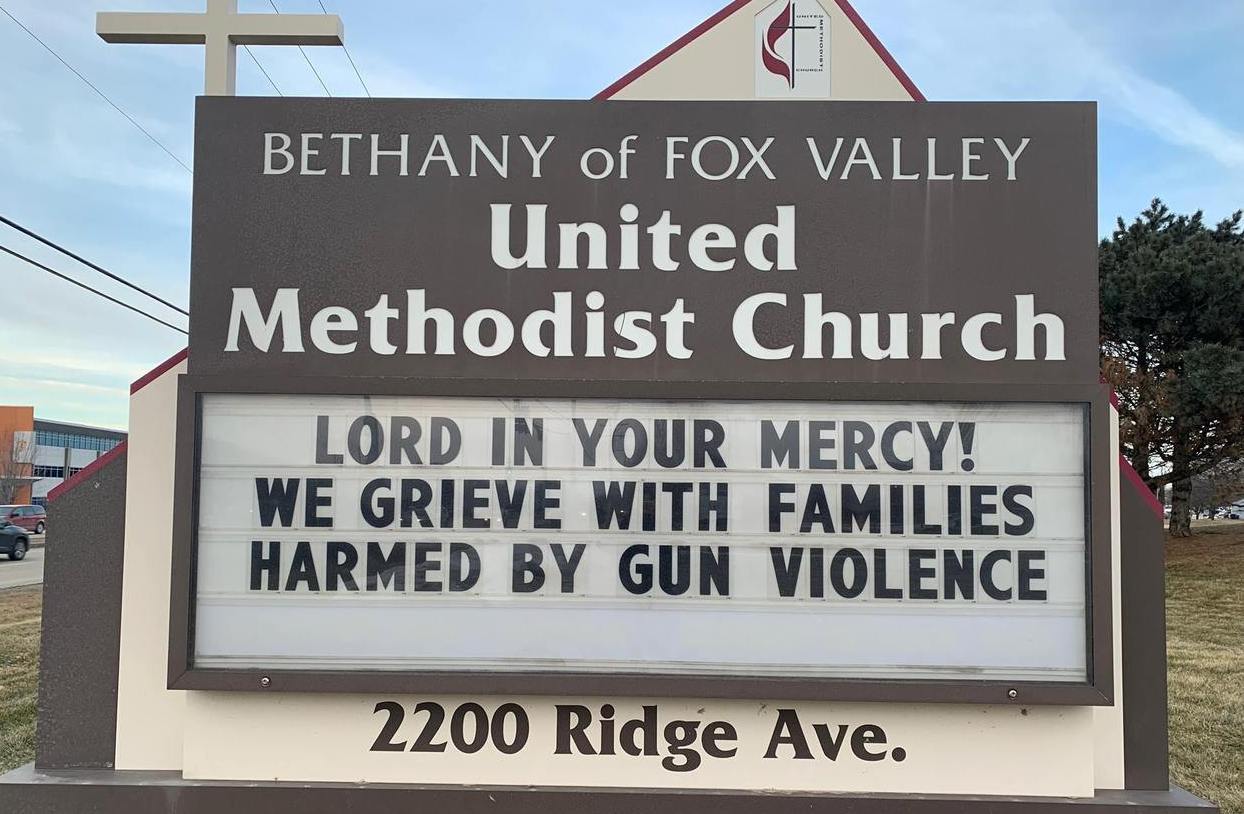 On Sunday Feb. 17, Bethany of Fox Valley UMC in Aurora invited all community members to come together for a morning prayer service to end mass shootings and heal those who have been harmed by violence.
The prayer service opened by naming the victims, said the Rev. Sam Park, Bethany's senior pastor.  "During the entire service, tears, prayers, reflection, and new hope flowed through the gathering at Bethany of Fox Valley UMC," said Park.  "It was a service of sorrow as well as a service of respect for those who are lost and harmed by this tragedy. It was a service of outrage over broken humanity and systems as well as a service of claiming an action out of love."
After Holy Communion, most congregants stopped by a table that was set at the corner of the sanctuary to light candles, remember those lost by gun violence, and pray for peace and change. "Indeed, the people of Bethany of Fox Valley UMC are courageous to claim justice and peace and to lift love and comfort as the peacemakers," said Rev. Park.
The Rev. John Bell, senior pastor at Wesley United Methodist Church in Aurora, participated in a community vigil on Monday, Feb. 18, where about 100 people gathered in downtown Aurora to remember the victims, pray for their families and honor first responders. "We lift up prayers today in the midst of chaos to bring meaning back into our lives. We lift our prayers to God to hold us as we grieve, shelter us as we fear, love us as we doubt,  comfort us as we rage, and strengthen as we pray," said Rev. Bell as he spoke to those gathered.
The Aurora shooting has many people across the country wondering, yet again, what can be done to end gun violence and mass shootings. "Prayers for all those involved in the shooting in Aurora: the victims' families, co-workers, responders, kids in school, and the neighborhood. When will we do what needs to be done to stop the violence?" Bishop Sally Dyck wrote on Facebook following news of the tragedy.
Rev. Lee shares her prayers for an end to gun violence. "We ask God to help all of us to let our anger and fear go away from the massive gun violence in this country and do something to make this country and the world safe. God heal our soul as we struggle during this difficult time."
---
More information on Wesley UMC is available at: https://www.wesleyumcaurora.org/
Related articles at XPian News: https://xpian.news/category/aurora/