Update on Andrew Brunson & Fake Facebook page
Andrew Brunson letter from EPC Stated Clerk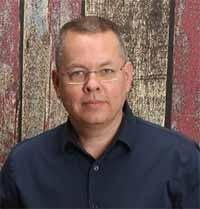 Dear EPC leader,

Thank you very much for your ongoing prayers for Andrew and Norine. Please pray for Norine's continued good health, stamina, and rest as she fights the good fight for her husband. She is able to visit Andrew each Thursday for about 50 minutes.

I have been in regular contact with her through encrypted text messaging, and she asked me to express her gratitude for your love and support.

I also monitor several Turkish media sites daily. With snap elections taking place in Turkey on June 24, there has been little news in the Turkish media about Andrew. Most of the media coverage about Turkey's relationship with the United States relates to talks about northern Syria, delivery of the F-35 fighter jet, the fine the U.S. will impose on Turkey's Halkbank, and Turkey's purchase of the Russian S-400 anti-missile system.

When Andrew is mentioned, it usually is the context of these larger U.S.-Turkey relations as an item of "concern" or "disagreement" between the two countries.

I will be in Washington, D.C., next week pursuing advocacy efforts. In my visits to Capitol Hill, I'll express our appreciation to Senators Tillis, Lankford, and Shaheen for their vocal efforts on behalf of Andrew. Their active support for him includes a mark-up of the National Defense Authorization Act (NDAA) that calls for a delay in the delivery of up to 116 F-35 fighter jets to Turkey if Andrew is not released. In addition, they have called for sanctions against Turkish government officials responsible for Andrew's unjust imprisonment.

These proposed Capitol Hill actions have been reported in the Turkish media.. However, even if these actions are approved by the full Congress, they are weeks—if not months—away from implementation. For this reason, I've been counseled to focus my time next week on the Administration, which is in regular contact with members of the Turkish government and are able to act quickly.

Secretary of State Mike Pompeo and I will meet on Tuesday, June 5, at 5:00 p.m. EDT. I am scheduled to meet with staff from the office of the Vice President and the National Security Advisor on Wednesday at 1:00 p.m. EDT.

The Secretary of State and the Turkish Foreign Minister, Mevlüt Çavuşoğlu, have talks scheduled for June 3-4. My hope for when Pompeo and I meet on Tuesday is that he will be able to give us some good news from those talks.

I'd appreciate your prayers for these meetings next week. While the Lord has opened many doors for us in Washington, the only open door that matters is the one that brings Andrew home.

Finally, a counterfeit Andrew and Norine Brunson Facebook page appeared in early May, and we have been trying to get it removed. If you have a Facebook account, would you take a few minutes and help in this effort? The fake page is https://www.facebook.com/Andrew-NorineBrunson-1618125681641538/
Note the period—Andrew & Norine.Brunson—in the title. Also, the fake page is listed as a Nonprofit Organization.

Two ways you can help:
Leave a 1-star review on the fake page with a comment that the page is counterfeit.
Report it to Facebook by clicking the ellipsis (3 horizontal dots) beneath the blue "It's Time to Come Home" graphic at the top of the page, to the immediate right of the "Share" button. After clicking the 3 dots,  click "Report" then "It's a scam" then "This Page is fake." Complete the process by clicking "Mark this Page as a scam."
Thank you for helping alert Facebook to this counterfeit page.
The Brunsons' legitimate Facebook page is https://www.facebook.com/AndrewAndNorine/ which you can identify from the counterfeit page by looking for a May 3 post about the fake page (that does not appear on the counterfeit page). The legitimate page has the "Public Figure" designation under their picture (on a mobile device) or above the right sidebar (on a computer). Also, as of today the most recent post on the real page is dated May 7 at 9:11 p.m.
Andrew's next scheduled trial date is July 16. I hope to send you an update on my Washington trip next week. In the meantime, you can keep up with our public updates on Andrew's situation by subscribing to EPConnection (click the "Follow" button at the bottom right of the browser window), and liking the EPC Facebook page.
Jeff
407-930-4239 phone      |      407-930-4247 fax      |      info@epc.org
---