Walk the Walk in 2018
May 3 National Day of Prayer in Aurora Offers Unique Prayer Opportunities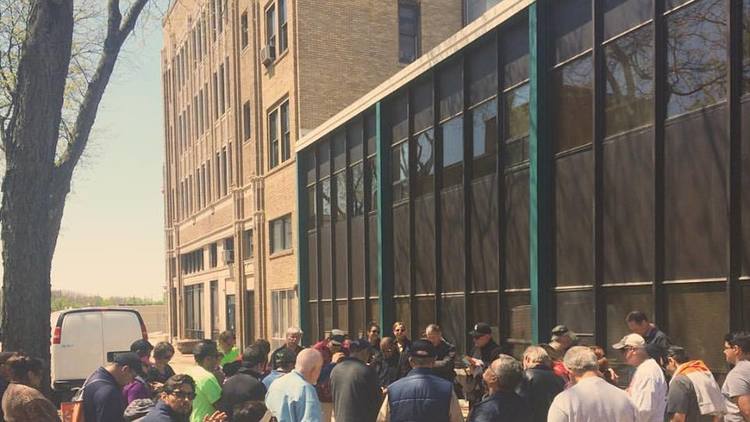 • Prayer Walk and Neighborhood Walks Are All Part of a Community Prayer Effort
Aurora area residents are encouraged to participate in various prayer efforts in observation of the May 3rd National Day of Prayer. This year, a couple of unique opportunities are being offered – a prayer walk, 9:30 a.m. – 6:15 p.m. and neighborhood walks, 7 a.m. or 7 p.m., or when convenient.
These opportunities are all part of a city-wide appeal by Aurora church leaders to promote prayer and to show "the Body of Christ demonstrating unity in Christ and praying together."
The prayer walk, some 12 miles in length, will start 9:30 a.m., at the southwest corner of Orchard Road and West Galena Boulevard. At 12:10 p.m., the walk will be at the Water Street mall/city hall. The walk concludes at 6 p.m. at the corner of McCoy Drive and Route 59.
Individuals are encouraged to do a Neighborhood Walk at 7 a.m. or 7 p.m., or when convenient, by walking around their block and praying for their neighbors.
Following is a timetable with location and prayer focus of each site –
Prayer Walk Route
On the day of the Prayer Walk, call Dan Haas at (630) 816-9314 to determine the location and to check the arrival time at a particular point.
Time
Location
Prayer Focus
9:30 a.m.
Start at SW corner of
Orchard Road & West Galena Boulevard
9:40 a.m.
Symphony of Orchard Valley
2330 W. Galena Blvd.
Seniors, Elderly, Infirm & Healthcare
10:15 a.m.
West Aurora High School- District 129
W. Galena Blvd. &  N. Commonwealth Ave.
H.S. Students
11:00 a.m.
Pregnancy Information Center
411 W. Galena Blvd.
Sanctity of Life
11:30 a.m
Paramount Arts Centre
23 E. Galena Blvd.
 Arts & Entertainment
11:45 a.m
Fox Valley United Way
44 E. Galena Blvd.
Service Agencies
12:10 p.m.
Water Street Mall
(City Hall – 44 E. Downer Pl.)
Mayor, Aldermen, City Employees, Township, County, State, President & Congress
12:45-1:30 p.m.
Lunch
1:30 p.m
NE corner of
S. Root St. &  E. Galena Blvd.
Homeless, Poverty, Repentance & Blessing
2:00 p.m.
NE corner of
S. Root St. &  E. Galena Blvd.
Unity among Local Churches
2:45 p.m
Main Baptist Church
808 E. Galena Blvd.
Racial Reconciliation & Neighborhood Development
3:10 p.m.
Beaupre Elementary School – District 131
Ohio St. &  E. Galena Blvd.
Grade School Students
4:15 p.m.
Steck Elementary School – District 204
Inverness Dr. & McCoy Dr.
Elementary/Middle School Students
5:15 p.m.
Fire Station
3770 McCoy Dr.
McCoy Dr. & Gregory St.
Safety for Firemen, Police & Military
6:00 p.m.
McCoy Drive and Route 59
Business, Jobs & Economic Development
For more information about the May 3rd National Day of Prayer in Aurora or a flyer about the day visit www.acmn.org. Also call (630) 816-9314 or (630) 859-0600.
The National Day of Prayer is a vital part of our heritage. Since the first call to prayer in 1775, when the Continental Congress asked the colonies to pray for wisdom in forming a nation, the call to prayer has continued through our history, including President Lincoln's proclamation of a day of "humiliation, fasting, and prayer" in 1863. In 1952, a joint resolution by Congress, signed by President Truman, declared an annual, national day of prayer. In 1988, the law was amended and signed by President Reagan, permanently setting the day as the first Thursday of every May. Each year, the president signs a proclamation, encouraging all Americans to pray on this day.
The Aurora Christian Ministry Network (ACMN), Love Fox Valley, Mission Aurora and Aurora area churches are sponsoring this community appeal for prayer.
The ACMN mission statement reads, "The Aurora Christian Ministry Network is a network of like-minded churches, organizations, clergy, and individuals dedicated to meeting Aurora's urban challenges by giving the light of the Good News of Jesus Christ through responding, mobilizing, and supporting."