Dr. Soong-Chan Rah Speaks to Judson University Audience
Professor Outlines Four Areas of Fear in America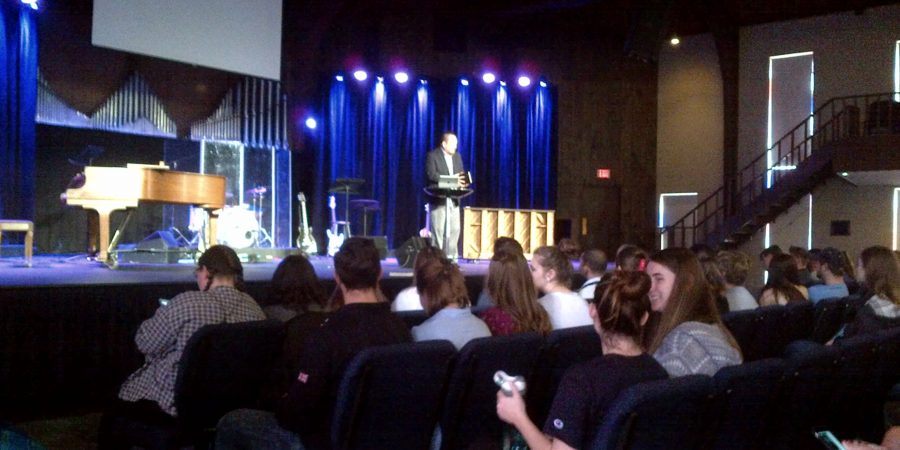 As part of Judson University's The Race Matters Week, on Wednesday, Feb. 22, the Rev. Dr. Soong-Chan Rah of North Park Theological Seminary addressed four areas of fear that are gripping Americans.
The areas of fear in America outlined by Dr. Rah in his chapel lecture included…
1. Economic fear in rural, non-urban America. New jobs in the country now need a college education.
2, "Demonizing" of black men
3, Fear of mass deportation by Hispanics
4. Marginalizing of Muslim immigrants and citizens. He noted the diversity of his daughter's sixteen year-old birthday party.
Dr. Rah.used Isaiah chapter seven as a basis for his morning talk. Isa. 7:4a states "Be careful, keep calm and don't be afraid." The Lord was speaking to the "House of David" and we are now his chosen people, The Scripture notes about the threat of the son of Tabeel coming to power over Judah's king Ahaz. But the Lord will not let it happen. Rah expressed that the name Tabeel means "a nobody, nothing."
Rah's closing prayer stressed that Judson students and those gathered should stand up for the Kingdom of God… the House of David.
Rah is the Milton B. Engebretson Professor of Church Growth and Evangelism at North Park University in Chicago, and the author of "Many Colors: Cultural Intelligence for a Changing Church (Moody Publishers)," "The Next Evangelicalism: Releasing the Church from Western Cultural Captivity (InterVarsity Press)" and "Mercy and Justice (InterVarsity Press)." He is also a blogger and sought-after speaker.