The decline and shift of Christianity is occurring in all Western countries.
Mission at our Doorsteps
Formerly it was easy for Christians of North American and Europe to live apart from those of other ethnicities and beliefs. That has changed, resulting in diminishing geographic distance between Christian communities and those of different cultures and beliefs. It has become fashionable to speak of the close proximity of the mission field. Mission takes place at "home," not only faraway in places called "abroad." The slogan "mission in six continents" coined already at the 1963 World Mission Conference in Mexico City reflects this reality for all countries, including those in the West.
In particular, the rising numbers of economic and political immigrants into countries such as the United States, Canada, Germany, Norway, and Sweden have made mission an important task. There was a time when the West was a stronghold of Christianity. That has changed. Today we need to take into account that paganism and Christianity coexist, often in close proximity. Recent statistics show that the greatest growth for Christians in 2005 occurred on the continent of Africa. By comparison, Christian denominations in North America saw an overall decrease caused not only by a loss of membership through secularization, but also by a dwindling birthrate among Christians.
The decline and shift of Christianity is occurring in all Western countries. Today only 45 percent of Caucasian Europeans claim to be Christians, whereas one hundred years ago, it was still 80 percent. Over the next twenty-five years, the Caucasian portion of global Christianity will decline even further, as Philip Jenkins predicts in his book The Next Christendom: The Coming of Global Christianity. This means that mission opportunities abound not only in North America but also in the West overall. The mission task becomes even more pertinent as one looks at the current immigration of non-Christian people from central and eastern Asia. As a result, the ratio of non-Christians to Christians will increase even further and adult baptisms could become commonplace again.
Since Western Europe and North America have become mission fields in ways unlike those of times past, denominations in the West face the dilemma of where to concentrate their efforts. Should mission continue predominantly as an enterprise that sends people from one country to another, or should it focus on reaching the lost at home? Here is where questions of economics and priority of needs can intersect the mission task. Those who ask such questions do not intend to undermine the missionary enterprise overseas, but they would prefer to place a greater emphasis on mission in their own country. Germany is an example of this transition. The states of the former East Germany have a population that is almost 70 percent non-Christian. Since German reunification in 1991, church bodies and their mission societies have called missionaries to serve in their home country, especially in cities where there is a large concentration of non-Christians.
Similar mission efforts take place all over the United States to bring the Church to areas where suburban sprawl continues and where foreign non-Christian communities settle. The harvest is waiting, as Donald Moorman points out: "Now, many new strangers have appeared on our doorstep, and we have the opportunity to take them in, minister to them and welcome them to the Family of God and the grand American mosaic." Indeed, most congregations have begun to notice the challenge of mission in their own particular context.
Hence, churches should set a serious budget for local missions, and fan the flames of faith among believers. The Church is outside the building walls.
Hesham Shehab
---
Read more from Hesham Shehab… https://xpian.news/?s=hesham&submit=Search…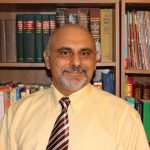 Adjunct Faculty at College of DuPage, Formerly Adjunct Faculty at American University of Beirut and Pastor at Peace Lutheran Church Lombard, IL Name pronounciation: HI-shahm SHI-hab  Hebrews 12: 4 & Philippians 1: 29