The Thursday kickoff at 823 Gillette Ave. in Aurora launched three days of construction by 70 women...
Aurora-area women – Women Build – launch Habitat for Humanity home (with photos)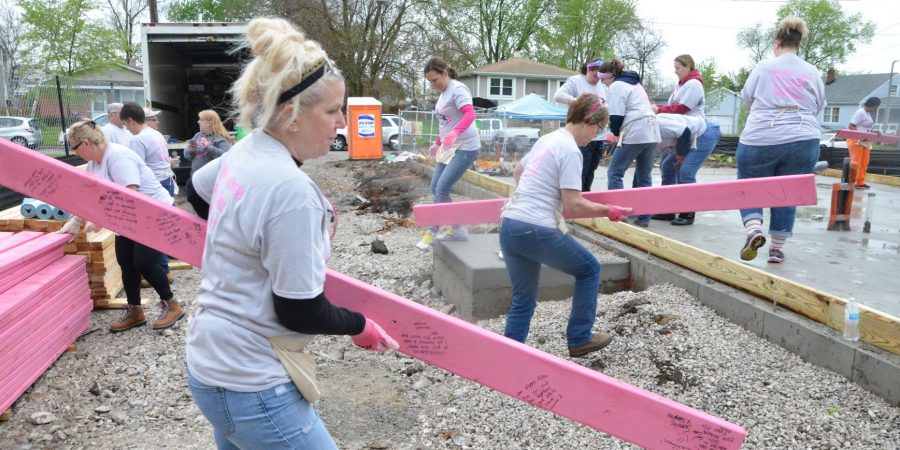 AURORA, Ill., May 9, 2019–Decked out in "She Nailed It" T-shirts, 20 Aurora-area women launched construction Thursday of Women Build 2019, Fox Valley Habitat for Humanity's first home built by female volunteers.

The Thursday kickoff at 823 Gillette Ave. in Aurora launched three days of construction by 70 women, 20 each on Thursday and Friday and 30 on Saturday. Women are scheduled to complete the frame ranch with detached garage by January. A groundbreaking ceremony was held in March.
Fox Valley Habitat, a housing ministry based at Genesis Community Church in Montgomery, sponsors the 2019 Women Build. The project got underway with a welcome from Ron Kelso of Yorkville, chairman of Habitat's board of directors.
After directions from Julie Clark, Habitat volunteer coordinator, and a prayer by Barb Zegiel, Habitat funds coordinator, volunteers grabbed hammers and set to work nailing pink-hued studs to frame interior walls.
Following Habitat tradition, volunteers wrote messages on the pink studs to the future homeowner Elsa Macias and her daughters Minerva and Vivian.
Heidi's Cake and Pastries in Geneva donated breakfast refreshments. Starbuck's donated coffee.  

Mentors from Habitat who assisted volunteers were Al Green, Montgomery, Habitat construction supervisor; Kevin Hennessy, Oswego; and John Lear and Walter Woods, Naperville.
Women executives scheduled to speak at 8 a.m. Friday are Kristen Ziman, Aurora police chief; Lauren Voit, Great Western Flooring Co.; and Tamara Shaw, TCS Associates and Premiere Designs Jewelry.
Scheduled to speak at 8 a.m. Saturday is Barbara Hernandez- IL State Representative-Dist. 83. 
Rev. Jeff Barrett, Habitat CEO, said more women are needed to complete the project..He said women age 16 and older are invited to volunteer. Individuals and teams of six women are welcome. Volunteers are asked to donate $250 per day for building materials and other expenses.

The Macias' home will be Habitat's 63rd built or upgraded in Aurora, North Aurora and Montgomery since the nonprofit housing ministry's founding in 1988.
Rev. Barrett said,"Women Build is Habitat for Humanity's program that empowers women to learn construction skills, build homes, and build communities. Volunteers come together from all walks of life to build stronger and safer communities.
"Women and children make up the majority of people populating Habitat neighborhoods, as they are the most likely to be affected by poor living conditions. Women Build events provide the opportunity for women to take a proactive step in serving their communities," Rev. Barrett said
.

Volunteers receive a Women Build t-shirt, catered lunch on site, personalized fundraising website and office support. For more information, contact Habitat volunteer coordinator Julie Clark at (630) 206-5034 or j.clark@foxvalleyhabitat.org.

Founded in 1988, Fox Valley Habitat is based at Genesis Community Church in Montgomery. A Habitat warehouse is at 250 S. Highland Ave. in Aurora.
The nondenominational Christian housing ministry partners with people in need to deliver affordable shelter. More than 200 residents of Aurora, North Aurora and Montgomery have been served through 62 new or upgraded homes.
Volunteers and donations of funds and materials are needed to continue the ministry. Call (630) 859-3355 for more information.
Update… Photos from Friday, May 10, 2019
---
More information on Fox Valley Habitat for Humanity is available at: http://www.chicagolandhabitat.org/site/PageServer?pagename=home_fox
Related articles at XPian News: https://xpian.news/category/aurora/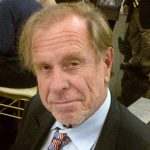 Al Benson is an Aurora-based freelance photo-journalist. He is currently an archives research specialist at Aurora University. His work has appeared in The Voice, The Daily Herald, The Beacon-News, and the Chicago Tribune.