Rev. John Bell, Wesley pastor, thanked Chase for her service...
Musical retirement tribute: Surprise concert salutes 15-year Methodist music director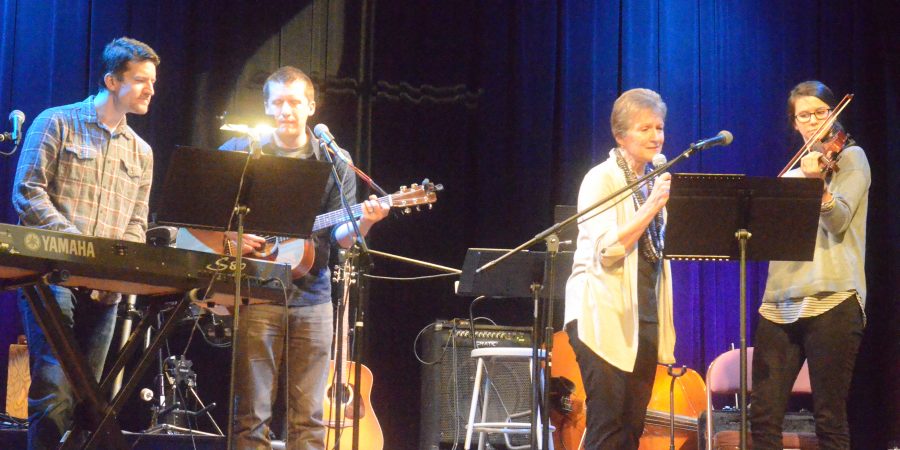 AURORA, Ill., Jan. 8, 2019–Lucinda "Cindy" Chase of Aurora was surprised Sunday (Jan. 6, 2018) with a concert by congregants at Wesley United Methodist Church in Aurora.
Chase had been invited to a reception marking her retirement as the church's praise music director for 15 years.
Instead of relaxing in the audience, she was called to the stage in the Gathering Place room where she sang several numbers and played guitar. Pieces included "Twenty Naked Pentacostals in a Pontiac," a Chase favorite.
Other performers were Chase's sons Dan and Nathan, daughter-in-law Anna Chase, youth including a kids choir, a house bluegrass band and soloist Joe Rigaud of DeKalb.
Rev. John Bell, Wesley pastor, thanked Chase for her service and sang with the bluegrass band. Meredith Lindgren of Aurora, a band member and worship coordinator, recalled how she first met Chase in 2003 when Chase joined the church staff.
Chase thanked guests for the tribute, saying "I would have retired more often."
A California native, Chase came to Aurora in 1973 as a student at Aurora College, now Aurora University. After earning a bachelor's degree in 1977, she taught piano in the area and was also a singer, songwriter and recording artist.
Refreshments concluded the tribute.