Methodist men raised walls at 1553 Solfisburg Ave. in Aurora .
Methodist men raise Habitat for Humanity walls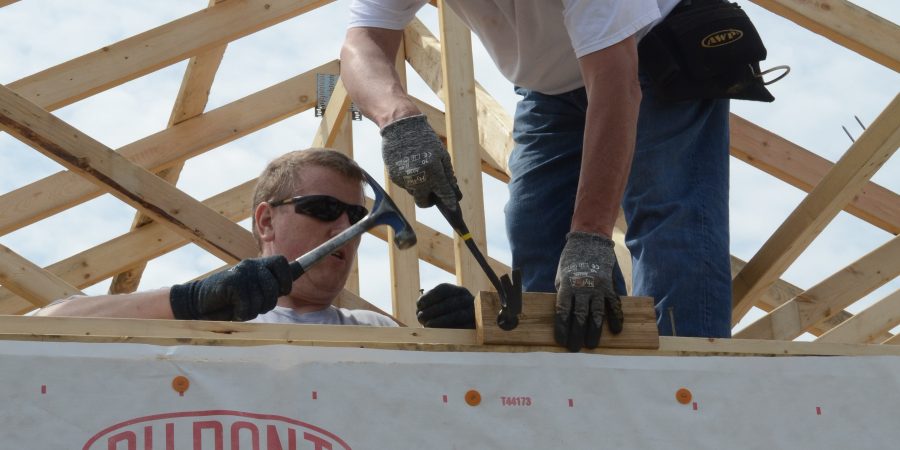 AURORA, Ill., May 25, 2018—

Methodist men raised walls 

at 1553 Solfisburg Ave. in Aurora

 last weekend to launch Fox Valley Habitat for Humanity's latest project.

The three-day effort by a dozen volunteers from Grace United Methodist Church in Naperville supported Montgomery-based Fox Valley Habitat's Faith Build 2018, a second annual collaboration of 30 churches in Kane, Kendall and DuPage counties.

Leading Faith Build volunteers Friday through Sunday (May 18-20) was Naperville resident Rick Loufek, a member of Grace UMC. Loufek managed Faith Build 2017 construction last year at 1551 Solfisburg Ave.

Selected as the latest future Habitat homeowner was Aurora resident Carmen Fernandez and her daughters Naima, 9, and Jaeda, 7. Groundbreaking for the Fernandez home was Oct. 21. Completion is scheduled for December.

Founded in 1989, Fox Valley Habitat is an affiliate of Habitat for Humanity International. Since its inception, Fox Valley Habitat volunteers have built or rehabbed 57 homes in Aurora, North Aurora and Montgomery.

Habitat, based at Genesis Community Church in Montgomery, is seeking 50 churches to partner in Faith Build 2018 by contributing volunteers for construction or support services.

Oswego resident Matt Hutchinson, Habitat board member and financial adviser at Thrivent Financial's Oswego office, said Thrivent will match up to $75,000 in donations for Faith Build 2018. Thrivent is an Appleton, Wis.-based financial services firm​.

Faith Build 2018 partnering churches are:

Aurora: Advent Christian, First Baptist, Fourth Street United Methodist, Our Lady of Mercy Catholic, Rush Copley Medical Center, St. John United Church of Christ.

Batavia: Sanctuary Church.

Geneva: Rejoice Lutheran.

Montgomery: Genesis Community.

Naperville:  Community UMC, Good Shepherd Lutheran, Bethany Lutheran, Grace UMC, Trinity Church of the Nazarene and Wesley UMC.

Oswego: Oswego Presbyterian.

Sugar Grove: St. Katharine Drexel

Yorkville: AuSable Grove Presbyterian, Cross Lutheran, Trinity United Methodist.

Volunteers and donations are needed to continue Habitat's affordable-housing ministry. Call (630) 859-3333 for more information.